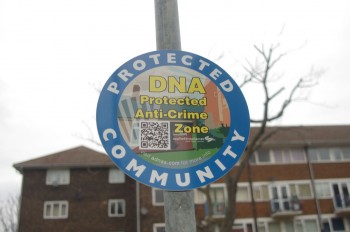 Some organisation has recently filled my local neighbourhood in the inner London borough of Southwark with a remarkably large number of the above signs. These have been attached to stop signs and other traffic signs, poles holding street lighting, and a few are even attached to poles that hold nothing else and have presumably been installed specially for the occasion. It is hard to imagine government of some kind not being involved, given the public places where they have been erected, but WTF?
Are these supposed to make me feel safe? Reassured? Threatened? Creeped out? Vaguely worried? Concerned that money that could otherwise be spent on something useful is being used to pay the salaries of people with far too much time on their hands? Also, WTF?
Going to the advertised website is only of limited help. Something about fighting crime with fighter jets? In any event, a badly designed website of the kind one would find from some small company that is desperately short of capital and trying to impress investors after an unsuccessful listing on AIM. Oh, okay, there is something about some kind of partnership in London with the Metropolitan Police elsewhere on the website, but it is virtually impossible for me to link to due to the horrendous overuse of Flash. So taxpayer money probably is involved somewhere.
Once again, WTF?