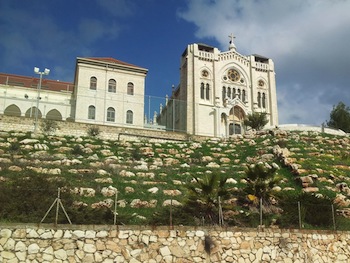 The above picture is of the Church of Jesus Christ the Adolescent, which is found on the top of a hill in Nazareth in Israel. It presumably gets its name from the fact that Jesus Christ did apparently spend his teenage years in Nazareth. I post the picture merely because everyone I have shown the picture to so far has laughed at the name.
Thinking about it more, though, asking people to complete the phrase "The Church of Jesus Christ the…" with the most entertaining ending is possibly almost as much fun as "For all its faults,…".
(Yes, I think Evelyn Waugh played with this exact idea in The Loved One. It is still fun, however).