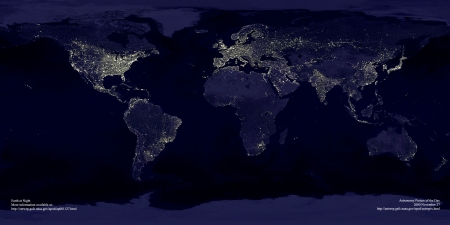 I never get tired of looking at this photograph. It never fails to fill me with wonder and awe at the ingenuity of my species who, against all the odds, have carved these glorious man-made islands of light out of the primordial blackness. Whenever I am heavy of heart, I open up this photograph and stare at it to remind me that, somewhere, there is light and life.
And there is. For now.
Towns and cities around the world are turning out the lights for an hour to highlight the threat of climate change.

Sydney was the first major city to begin "Earth Hour", when at 2000 (0900 GMT), lights went out on landmarks like the Opera House and Harbour Bridge.

Bangkok, Toronto, Chicago and Dublin are among 27 other cities officially due to follow suit at 2000 local time.
With each passing day I become more convinced that the 'green' movement is actually a millenarian psychosis; a mental and spiritual sickness borne, perhaps, from some degree of civilisational exhaustion. Not just a belief that the end of the world is nigh, but an active desire to bring it about. And soon. Ours is not the first age to witness such pandemics of madness but, in the Middle Ages at least, there was the excuse of a near-universal poverty. In such a state of interminable plight, despair may not be the wisest response but it is at least an understandable one.
But now we live in an age of near-universal prosperity and progress. Never before has our species enjoyed such security and such freedom from want. Yet this is clearly no defence against a recurrance of this psychological plague.
Some pubs are spending the evening without the lights on while many Australians are marking the occasion quietly in the darkness at home.
Life, laughter, love, food, drink, warmth, travel, communication, progress, a world full of unprecedented wonders and it's all too much for them. Better to sit in the darkness and curse the lighting of even a single candle.
'Stop the world, I want to get off' was the plaintive refrain of some Broadway comedy show I think. It could also be the motto for the greens, except that they want everybody off. Is that what they aspire to as they sit at home quietly in that seductive, undemanding cloak of blackness? To switch off civilisation and shuffle away into the perpetual tenebrosity dragging everyone else behind them?
The conditions are ripe for the spread of this insanity. Indeed, it is spreading now. How long will it be, I wonder, before some official body somewhere floats the idea of mandatory blackouts and curfews? "The voluntary approach" they will proclaim, "has not worked".
And what do we do in response? Laugh at them? Ignore them? Rage against them? What would work to inoculate the rest of our species? What combination or words or phrases could we use to dissipate and lay low a viral madness? I am, of course, familiar with the customary rebuttals. "We will win because we have MTV and Coca-Cola". But without the light there is no MTV, there is no Coca-Cola. What do we have then?
The lights are not yet going out all over the world. But I fear that I will see them do so in our lifetime.