One of the sad things that happened in the cold war was that the two sides each found allies in the third world, and what was best for poor countries got lost in the global realpolitik. This was saddest in Africa, where in many cases the anti-colonial rhetoric of communism and the money and weapons provided by the Soviet Union (combined with the fact that many of the African colonial powers were American allies of one form or another) led to many countries embracing socialism. This was of course a catastrophe, in that pretty much without fail the countries that took the socialist road were impoverished by it, not to mention being involved in wars that could and should have probably been avoided. The socialist rhetoric is now largely gone, and most African countries are now more over-bureacratic and corrupt than particularly ideological. That said, the ideas live on in the minds of many of the people who were involved in African struggles. Listening to South African government officials talking about appropriating private propery is rather depression. One would hope that they could look north at Zimbabwe and see what is not the solution.
And it lives on in other ways. One way is in the names of streets in places like Maputo. I think it would be a good thing at this point to formally disavow certain aspects of the past. But there seems to be a certain lack of that kind of bravery.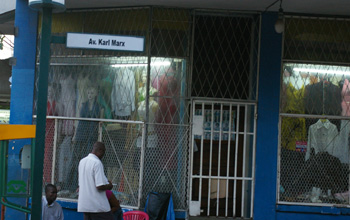 Tosser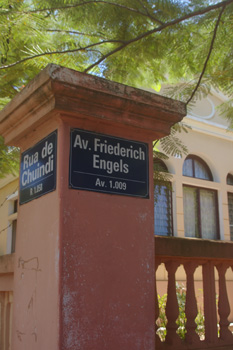 Tosser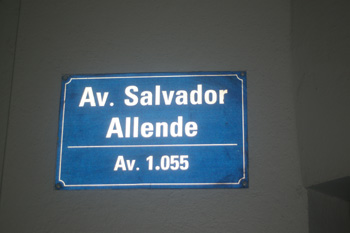 Tosser, although whether Pinochet was a bigger or smaller tosser is a matter for dispute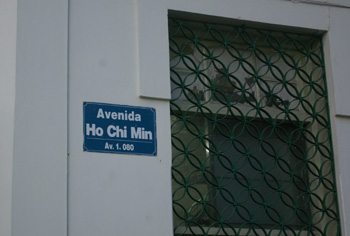 Tosser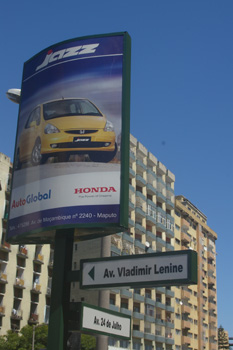 Big tosser, although I suppose we can at least say "Japanese car manufacturers 1. Soviet Union 0"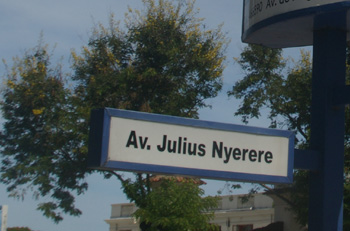 Well, okay, he was at least another African independence leader, and his country has at least managed to remain peaceful, which is more than many can say. He did utterly impoverish it, just the same. Could be worse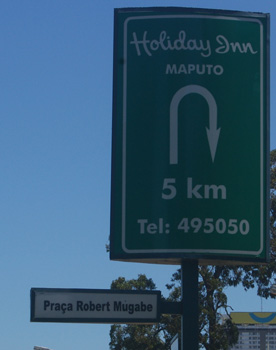 Much worse, in fact.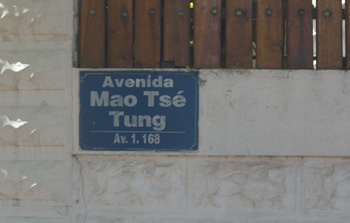 Perhaps we could also have streets named after Hitler and Stalin so that the three great murderers of the 20th century all get equal treatment?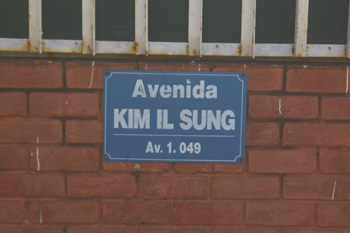 Okay, at this point I think we may have reached the indescribable
There is perhaps one redeeming feature, however. Near the botanic gardens is to be found a statue of Samora Machel, the first post-independence president of Mozambique. As it happens, this statue was given to Mozambique by the North Koreans and Kim Il Sung, which perhaps explains the slightly wacky style.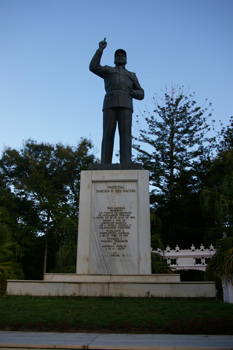 However, the statue hasn't received much maintenance, and many of the words on the plaque below it have crumbled away. In particular, the whole section explaining when and how the statue was erected is gone, and there appears to have been no attempt to repair the sign and return Mr Kim's credit. That is something to be thankful of, I suppose.