One of the more annoying things about modern large bookshops is that they divide the non-fiction books into a vast number of over-defined categories. This is not a huge difficulty if you are looking for a cookbook, or a book about trains, or a travel guidebook, as it is pretty clear what sections those books belong in. However, when we get to the social sciences things get hazy. If I am looking for (say) one of Ian Buruma's books on Asia (which are all worth a read, by the way), it is impossible to know whether the book in question will be on the shelves in "Asian History", "Eastern culture", "Travel writing", "Sociology", "Chinese History", or one several other categories, even though if you look at all his books together they are clearly all have a very similar theme. It just does not fit into bookshop categorisation.
This is fine if you are looking for a particular book. You just ask at the information counter, they look it up in the computer and they tell you where it is and whether they have any copies. However, if you are trying to find it without help it can be close to impossible.
In any event, when I was wandering through my local branch of Books etc the other day, I found myself walking past a section I hadn't noticed before, labelled "anti-globalisation". That's right, they had a section devoted to the works of Michael Moore, Noam Chomksy and the like. People who wanted to read such books can go straight to that section without having to be exposed to anything else. I'm sure they find this very convenient.
Even better, the bookshop encourages its staff to recommend books to customers. They even go to the trouble of giving their staff members little cards on which they can write down their recommendations and attach them to the shelves in the store. This is a good practice, as it may help readers find books and it also makes it clear that the booksellers are people who like to read themselves. But, even so, I had personal issues with the anti-globalisation recommendations.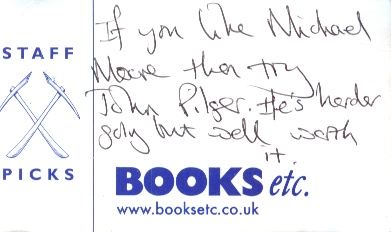 Ugh.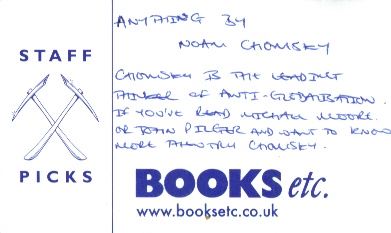 Save me.
Seriously, I suspect that the number of people who have read Michael Moore and are not already aware of the existence of John Pilger and Noam Chomsky already is small (or perhaps I overestimate them). I think recommendations like this are better when they refer people who have read something well known to something that is both rather more obscure and also good. And Pilger and Chomsky are not especially obscure, however much I might wish it were so.
However, in the chance that there might be anyone walking through the bookshop who might have discovered Michael Moore but not Pilger or Chomsky, I thought I had a duty to save them from this (and also there was a Samizdata post in it). Therefore, although it was a bit naughty of me I removed the little cards from the shelf and walked out with them. (Yes, okay, technically I stole them. However, sometimes the ends do justify the means).
As I was walking out of the shop, it struck me that it would be kind of cool to get a few of the blank cards, write out a few book recommendations of my own, and then attach them to the shelves. However, when I thought about it some more, I realised I didn't need anyone to supply me with a stock of blank cards. For I have the miracles of modern technology at my disposal, and I could produce some of my own. I could go back into the bookshop and leave something like this.
Or perhaps this.
The fun could be never ending. Perhaps I could attempt to send people to little sections of the bookshop they hadn't found before. "If you have enjoyed Michael Moore, then try Brink Lindsey. He'll help you get over it". "If you have enjoyed Paul Erlich, then we have many equally enjoyable books in the humor section". The potential fun is endless.
The nice irony about all this is that Borders, the American owned chain of bookstores, likes to operate a dual brand strategy. It reserves the Borders name only for its very large book megastores, and uses other brand names for smaller stores, mostly in malls. In the US, its smaller stores make up the Waldenbooks chain. In the UK, its smaller stores are called, you guessed it, Books etc. What this means is that the salaries of the people recommending the anti-globalisation books are being paid by a rapacious global bookshop brand, that is ravaging and homogenising the world (or at least the Anglosphere), destroying local cultures as they do so. Seriously, how can you possibly overstate the damage done by large, globally minded bookstore chains that provide foreign countries with far better stocked bookshops than anything they had before, in which local people can sit in nice comfortable chairs as they browse books and sip excellent espresso based coffee from the very pleasant in-store cafes. It's clearly another cultural Chernobyl.
I mean, how can these people live with themselves?