Oi, Robert Fisk, John Pilger, Will Self, Clare Short, Robin Cook, Tony Benn, Margo Kingston, Michael Moore, Sean Penn, Noam Chomsky, the Dixie Chicks, Susan Sontag, Maureen Dowd, Susan Sarandon, Martin Sheen, Jacques Chirac, Gerhard Schroeder, Robin Williams, Harold Pinter, Vanessa Redgrave, Clare Short, the entire BBC and all the rest of the 'Not In My Name' mob, would you kindly cop an eyeful of this: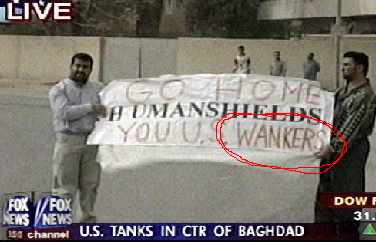 Just how many messages can be gleaned from this glorious photograph? Loads I imagine but three that readily spring to mind are the fall of a murderous thug regime, the utter contempt of its victims for the moral cripples, dunderheads and sixties re-treads that tried so hard to prevent it and, strangely no less stirring to me, the hilarious and highly appropriate public appearance of the 'W' word.
Seems that we did not just British soldiers to Iraq, we also sent British expletives and, to their credit, the Iraqis have wasted no time whatsoever in adopting it and employing to maximum effect. The image proves that not only have the Iraqis learned the word but they also know exactly what it means.
I like to think that we Brits have now added yet another component to the rich tapestry of Middle-Eastern culture and it reinforces my belief that the pithy, seductive quality of this word will continue to fuel its steady but relentless conquest of the Anglosphere, the Middle-East, the World and, who knows, maybe even beyond.
It is at times like this that all the speculation about possible encounters with alien species from other planets comes to mind. I am not sure that such an event will ever come to pass and I am quite positive that I will no longer be around to witness it even if it does. But I am willing to bet green money in the here and now that, within weeks of that first, portentious, epoch-making encounter, said aliens will be calling each other 'wanker'.