If you oppose a war to overthrow Ba'athist Socialism in Iraq but also claim to despise Saddam Hussain, then I can only assume that you are a 'containment' advocate… which is to say you view the policy of the last 12 years which prevented the Iraqi regime attacking it neighbours as an adequate response. You probably also think that containing Hussain within Iraq's borders is all that is really in the interests of any outsiders (which in practice means primarily the USA and UK)… therefore what happens inside Iraq is really not germane. You might even add that you would be quite happy to see the Iraqi people overthrow Hussain, just not with our tax money or the blood of US and UK soldiers, thanks.
Okay, I do not agree but that is indeed a coherent argument to make.
However if part of your argument against this impending war is 'many Iraqi civilians will be killed and thus it is unjustified', then you are not making the 'containment' argument, nor are you making a 'not in our national interest' argument. What you are saying is that the interests of the Iraqi people are actually important to you and presumably have some objective value.
So ponder this: Saddam Hussein's Ba'athist Socialist regime has been in power since 1979… about 22 years. Although the figures for how many people his regime has murdered varies hugely depending on the source and which axe they are grinding (with the high figure being 2 million), I will assume that the one million statistic being widely bandied about is correct… and lets for now just gloss over the number of people tortured, imprisoned or driven into exile.
That is approximately 45,500 Iraqi and Kurdish people per year murdered inside Iraq by the Ba'athist government… about 125 people per day that Saddam Hussein has been in power (or equal to about two Waco massacres every day). This is a crude blood calculus of course but it does put the Butcher's Bill up where it can be seen and priced. Even if the number was half that, it gives us some measure of the scale of the horror involved.
So if your argument against a (hopefully short) war to overthrow Iraq's Socialist regime is based on the undeniable fact innocent people will die, you would seem to be saying that it only matters when Iraqis are killed if outsiders are the ones killing them… because Iraqis are already dying at the hands of the Iraqi state in prodigious numbers. If that is indeed your position, I would contend that you really do not give a damn about what is best for the Iraqi people.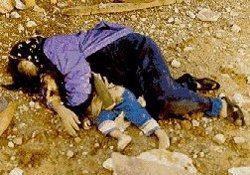 When the air turned to poison in Halabja: the reality of peace in Iraq