The French libertarian movement is split over war with Iraq, though needless to say, not for the purely venal reasons of Chirac, the bespoke purveyor of nuclear technology to national-socialist dictators.
Most of the French libertarians I have been in touch with seem torn between a quasi-Randian view: "exterminate all practitioners of violent irrational beliefs" and the absolutist horror of any state violence. With a president like Jacques Chirac (imagine a cross between Richard Nixon, Walter Mondale, Bill Clinton and George Bush senior: with NONE of their redeeming features), such scepticism about the morality of one's own government seems reasonable. My fear about America is that unlike most Americans, I assume that the next US president could be almost as bad. But that's another issue.
A distinctive voice in France right now is Jacques Garello – a French Catholic economist of the Austrian school. Professor Garello has hosted the summer university of the "nouvelle économie" at Aix for twenty five years, probably the most significant event of it's kind in Europe. Here M. Garello considers the case for a "just" war:
The error consists in talking of a war against Iraq, when it really is a war against terrorism, and a legitimate case of self-defense of universal civilisation against barbaric forces which happen to find support and encouragement in Iraq.
He goes on to suggest that the real purpose of French diplomacy in refusing to side publicly with the US is the fear of the millions of potential Islamic militants in France: they would rather ignore the problem than fight it.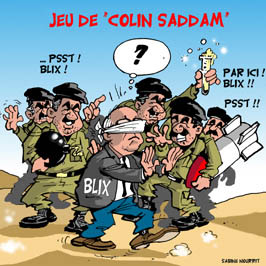 *= The Other France