Someone tried to shoot down an airliner full of Jews, not in Israel but in Africa…
Jew on holiday. Legitimate target
anywhere in the world, apparently.
But Jews = Israel and Israel = bad, in fact very bad as it is not just 'Jewish' but also 'White'. Therefore the people who did this must be misguided 'Islamic activists'. Terrible but 'understandable' to idiotarians and other sundry folk who take Noam Chomsky seriously. You know, the sort of people who say "Who are we do judge the value of other cultures?" and "Of course I deplore terrorism, but…"
Kikambala in Kenya is ripped apart by the same people who tried to shoot down the passenger jet and slaughtered Kenyans are photographed in the ruins of the resort which used to bring much needed foreign money into Kenya's economy…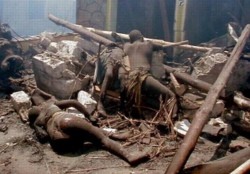 Vanquished capitalist tools perhaps? CIA agents maybe?
Black people in the Third World lie dead, therefore people who did this must be capitalists, um, imperialists, errr, Americans, no, Mac Donalds, um, er, ah…
I see pictures like those and I am soooooo sick of the people who say "It is all about Israel!" or "It is all about oil!" or "It is all about US policy!"… those dead Kenyans are not in Israel, I rather doubt they owned shares in any oil companies and they did not get to vote for who became the President of the United States.
What "it is all about" is that there are people using violence who advocate coercive pan-Islamic collectivism and who wish to force submission on everyone else. Once this is understood, all that needs to follow is to determine the best way to exterminate them as expeditiously as possible.