Last night I attended Libertarian Home's first Thursday of the month meeting, at which the speaker was Vít Jedlička: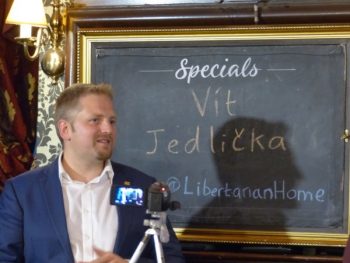 Jedlička is a libertarian politician. Maybe you think that's a contradiction, but if we libertarians are to score any victories out there in the big wide world, we must have such people, and the very least we can do is listen to what they say, and, assuming we like the approximate sound of it, we should back them up and beat ours drums for them, even as we nitpick about details, tactics, principles, etc.
I did zero homework for this meeting, and have done extremely little since, so many of those reading this will know a lot more about this man than I do. All I can now offer is a few thoughts about how he came across to me last night, and about what he definitely is – but also probably is not – achieving.
Jedlička is trying to establish a small country, called Liberland. He has found a small chink in the armour of the state system, in the form of a small, unclaimed patch of territory between Serbia and Croatia. He and his collaborators have moved into it, and have declared it to be a state.
Jedlička is careful to call what is happening out there in Liberland a minimal rather than non-existent state. After all, if only to defend itself against the rest of the state system, most notably the state of Croatia, Liberland needs something very like a state apparatus itself. There's a lot of ducking and weaving going on.
Jedlička struck me as a guy who, unlike some libertarians I could mention, including some who have become involved in schemes for new libertarian countries, well understands the difference between how the world ought to be, and how it actually is. When asked how he planned to stop this or that attack on Liberland, he did not descend into libertarian rant-mode about how such attacks would be wicked. Of course they'd be wicked. That wasn't the question. Instead, he frankly acknowledged that this enterprise may not work. He presented it as very much a load-fire-take-aim, fear-the-worst-and-try-to-prepare-for-it but hope-for-the-best sort of an enterprise.
Why then, the air of breezy optimism that Jedlička exuded all evening? Why the sense that at least something was definitely being accomplished, even if Liberland itself soon or eventually gets snuffed out? One word answer: publicity.
→ Continue reading: Vít Jedlička talks Liberland to Libertarian Home