Today I am going to do duty as a background extra in a short vampire movie that a friend of mine is starring in. I am to be one of a number of diners in a restaurant. I won't be paid but I will be fed, and I already know that it's a very good restaurant because I've already been there before.
Today I got a look at the email sent out by the production to all whom it concerned, about today's activities. This was, for me, a glimpse into a whole new world of complexity and managerial drive. Here, just as a tiny for-instance (there are three whole pages of stuff like this), is a list of the kit that will be used by the DOP/Grip/Lighting Department:
2 X Sony EX1 (with S XS cards) – 1X Intel Mac Book – 1X S XS card reader & firewire cable – 500GB EXT HD (or equivalent space for backup) – 1X Letus Ultimate Adapter & photographic lenses – 6 X Prime Lenses & PL Adaptor – 1X Manfrotto Tripod – 1X 32in LCD TC & Composite leads – 1X Steadicam Junior – 1X Manfrotto Fig-Rig – 1X 8in Camera Monitor with composite leads – 1X 25m BNC cable drum – 1X Mini-Jib with Tripod & Fluid Head – 2X Paglights and battery packs – 3X Redheads with stands, diffuser/gel kit – 1X Set of 3 dedo lights with stands – 1X 2ft 4-bar Kino-flo with stand – 1X 200W Handheld MSR lamp – Reflectors, gels, diffusers, clips and stands – Blacking for windows
I am looking forward greatly to seeing what this all looks like in practice. I suspect that, in reality, it won't amount to very much at all.
My favourite is the "Manfrotto Fig-Rig". Time was, when faced with a splendid name like that, you just read and wondered. What kind of Rig would that be? And why "Fig"? But this is the age of the internet, and I can immediately tell you the answer:
From initial conception to finished product, Manfrotto worked alongside director Mike Figgis, whose films include Leaving Las Vegas and Cold Creek Manor, to develop a hand held DV camera support system that offers the shake-free stability of a tripod with the framing flexibility of handheld shooting. A circular frame with a crossbar to mount most mini DV cameras, the FigRig mn595 becomes part of the body to produce smooth, steady travelling shots. It is this very fact which is the secret to the Fig Rig. As the operator walks, his/her muscles and tendons absorb all the shocks, transferring only fluid movements to the camera. As there are no straps or harnesses attached to the Fig Rig, quick and wide movements can be made within the same shot from ground-level to overhead, in one smooth movement. The camera, accessories and operator become one, allowing you to film scenes quickly and unobtrusively.
So hats off to Manfrotto, and it is called "Fig" after Figgis.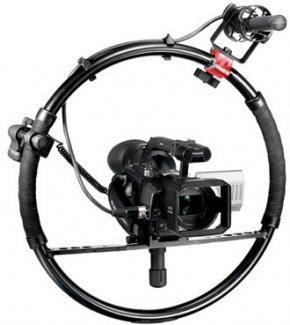 This piece of kit costs around £150 quid. I still don't quite get how it works, but here's hoping that I find out.