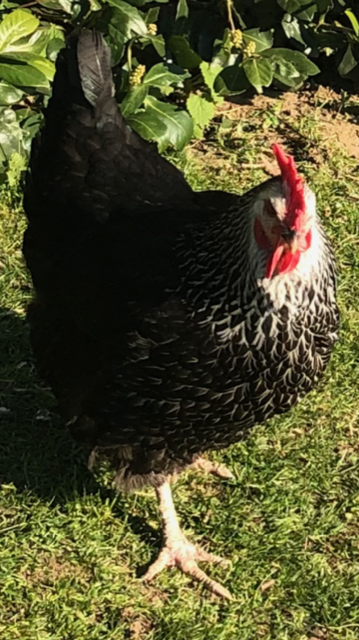 Here is a free-range chicken in a layer flock at a site somewhere in Northamptonshire in the English Midlands. It roams free, it does not risk an unlimited fine for leaving its home without just cause, it can associate with chickens other than its flock, or any feathered or non-feathered friend. It does not have to queue to get into shops to buy basics, (nor did it ever), nor justify itself if it wishes to stroll around more than once a day. Although its parents were cooped up because of bird 'flu a few years back, it knows only liberty. Mind you it doesn't have the right to bear/bare arms, nor any right to free speech, nor protection against unreasonable searches or seizures. No one is going to ask it to self-incriminate, well, perhaps next week.
It is not required to keep itself 6 feet, 6 and three-quarter inches (or 2 metres) from other chickens not from its yard. It is not under sentence of death as it is not raised for meat. Welcome to the UK, where the chickens run free and there once was liberty. Do you think the concept might catch on?
Mind you, at least we are safer from the virus now, aren't we.