Samizdata has no 'official position' on Brexit. Some of the samizdatistas support it, others do not, and for reasons I fully understand. Fine by me, it is not a 'libertarian' issue and opinions held in good faith vary on the likely aftermath either way.
So my view is just my view. And my view of where the UK finds itself is no longer a matter of "is Brexit a good idea?" but rather if, in view of the obvious attempts to roll back the result of the referendum, has the state de-legitimised itself? Has Parliament become a self-serving enemy of the people it supposedly represents? And if so, what can be done about it?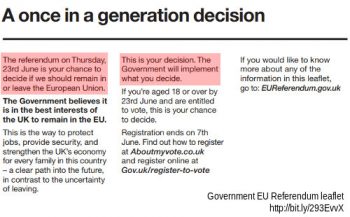 "This is your decision. The government will implement what you decide."
They didn't have to say that, but they did. They didn't have to hold the referendum, but they did. So clearly voting will have been demonstrated as pointless if we do not in reality end the political control of the EU & its associated institutions after a majority voted to do precisely that. If leaving the EU proves to have been a terrible idea, then by all means hold another vote on trying to rejoin the EU later. But implement the result of the referendum first. Otherwise, next time a party gets a majority in Parliament, if I don't like the result, I say we skip the whole tiresome implementation phase of a government taking power & just hold more votes until the correct result is achieved.
Absurd, of course. But that is what some people want regarding the referendum and they are working hard to achieve that. This is what de-legitimisation looks like.
Well, in my view, if we have not left the EU on the 29th of March, more voting on the issue is worthless. But votes are not the only way to express a political opinion. Demonstrations are of course peachy, but they are also easy to ignore and will be mis-characterised as 'far right' by the media no matter who else turns up. That said… I recommend purchasing some Yellow Vests. I am buying five as I have friends who tend not to plan ahead.
Tax strikes, on the other hand, attack the very foundations of the state. If 1,000 people do this, they will get dragged into court and made a public example of. However if 100,000+ do it, the entire system will come unglued, and we now have a real rebellion with teeth.
I never thought I would have to write this article, but here we are. I am not musing on the future, this is what is staring us in the face right now.