I clicked on a link to an article about food marketing failures and came upon a notice that due to GDPR, the publisher just could not be bothered dealing with people from Europe for now. It turns out the even the Los Angeles Times thinks people from Europe are too much of a pain in the ass to talk to.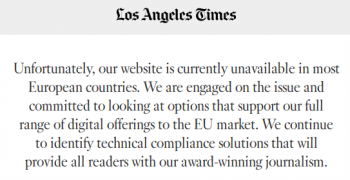 If they can not cope, what chance does a small US-based pizza restaurant with an online ordering system have, having been told that they have to comply with GDPR in case any customers from the EU visit?
Things look set to get even worse for the Internet within the EU. But it is not just the EU. Amazon will stop shipping things to Australia because of a global sales tax. Trump seems very keen on tariffs. The UK does not appear to be in any hurry to turn into a small-state unilateral-free-trading nation after Brexit. In fact we are likely to have to choose between outright full-steam-ahead socialism and slowly-boiled-frog socialism at the next election.
Governments really do like their borders. As Guy Herbert says: The nation state is still our biggest problem.