I recently played the computer game, Papers, Please. It is set in a fictional dictatorship that looks like the USSR. You play a man who is assigned by lottery the job of border agent.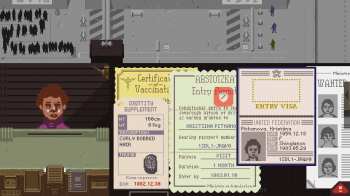 At the start of each work day you are shown newpaper headlines which affect the border rules. A shortage of jobs might lead to a requirement for foreigners traveling for work to have a work permit, for example. There is a long queue and travelers come to your desk one by one. There is some dialog ranging from "hello" to an elaborate sob story. You look at the papers presented and make sure all the rules are followed, then decide whether to stamp then entry visa with "APPROVED" or "DENIED". You get paid according to the number of people you check through the border in a limited amount of time and you can get fined if you fail to follow the rules properly. At the end of each work day you are presented with bills and must check off which ones to pay. You must always pay rent, but must choose whether to buy heat, food or medicine. You are also shown whether your wife, son, uncle and mother-in-law are cold, hungry or ill. You might decide, for example, to buy medicine for your son instead of food for your mother-in-law.
All this is presented in a point-and-click, drag-and-drop, retro-style indie-game interface with a distinctly Soviet look and sound design.
Tension comes from trying to work quickly without making any mistakes. It's easy enough to check that the passport has not expired and the work visa is valid, but not notice that the name on the work visa does not match the name on the passport. Rules get increasingly more complicated as the game progresses with more documentation being required and more information to check.
The game also gives you some moral agency. One man with valid papers says his wife is in the queue, but there is a minor discrepancy with her papers. Do you separate the couple, or take pity on them? Another woman says she will be killed if she is sent back home. Another begs you not to allow a certain man through as he is planning to sell her into prostitution. You can break the rules about twice per day and get away with it, but any more and you will get fined. Breaking the rules on purpose increases the risk of being fined for making a mistake.
All this means that while you might start with good intentions, before long you are weighing the lives of your family against the plight of the travelers. On my first play-through I sent various travelers to their doom to save my ill son, but ended up in jail when I decided to deny access to the pimp whose papers were valid, got fined, and could not afford the rent.
It's a fun game and has an interesting lesson about how people are compromised by inhumane systems.
See also: Papers, Please cosplay and the short film.