Whenever I have attempted to discuss health care, I am always told about how the US health system fails people. I am sure that this is some combination of untrue (my own experience of US health care was walking in unannounced, paying $100 and being seen and fixed straight away) and unfair. US health care is not wholly private or even very free-market at all, and suffers a high level of regulation. But I do not understand enough about the details.
I occasionally hear good things about other health care systems, such as Australia's method of having people pay and then possibly having the government refund them. While I can understand that it will be hard to convince people that anarcho-capitalist health care is best, it is interesting in the UK that no changes to the structure of health care at all will be considered. Private companies must not be allowed to make a profit! Such profit can only be gained from killing patients.
However the IEA have recently made an interesting strategic decision to counter-attack the knee-jerk reaction that the only alternative to the NHS is US-style health-care. What if the NHS and the US system are both weird and there are other sane and functional systems in the world? Kate Andrews has appeared on the BBC pointing this out. Guido covered it. Kate Andrews wrote a piece for the Spectator. All this is to publicise the IEA report Universal healthcare without the NHS.
One thing they keep pointing out is that the NHS ranks in the bottom third of the world's health care systems in terms of outcomes. That will need a lot of repeating if anyone still thinks it is the envy of the world.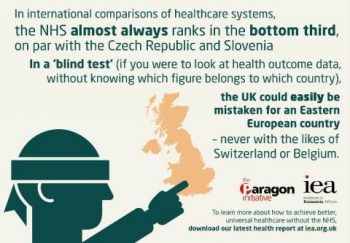 It is also, perhaps, a much more effective strategy than attempting to convince people of the benefits of free markets up front. "Let us try to learn something from nice country X" does not require breaking down as many mental barriers as "please abandon a lifetime of carefully cultivated opinions about the unfairness of capitalism".