Last Wednesday, I attended a meeting at the Frontline Club, which is near Paddington Station in west London. The meeting was devoted to the memory of the great Romanian businessman and freedom-championing newspaper owner Dan Adamescu, and the danger now facing Dan's son Alexander Adamescu. Some friends of mine are also Friends of Alexander Adamescu, and this is me trying to help them.
Encouraged by the organisers, I took photos at that meeting, photos of very variable quality, because of my woeful inexperience in what for me were very imperfect lighting conditions. But, I hope that the best of them may be of some use to the cause, and assist Alexander Adamescu's friends in stirring up more media attention.
The cause being that Dan Adamescu was, just over one year ago, imprisoned to death, so to speak, by the government of Romania, and that the government of Romania has for some time now been trying to do something similar to Dan's son Alexander, after he complained what was being done to his father.
Here is a picture of the big picture of the late Dan Adamescu that presided over the meeting, beneath which sat Alexander Adamescu, who spoke at the meeting: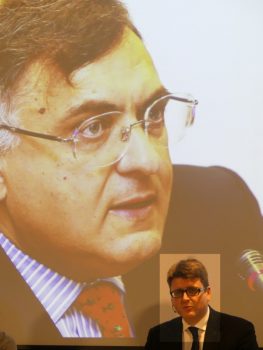 As you can see, I did a bit of photomanipulation there, to make it clearer what Alexander Adamescu looks like.
Alexander Adamescu now lives in London with his wife (who also spoke most eloquently about Dan Adamescu) and young family. But the government of Romania wants the British government to hand Alexander over to them, so that they can inflict upon him the same sort of parody of justice that they inflicted upon his father. Their instrument of choice to accomplish this is the European Arrest Warrant.
What you think of this matter will depend a lot on what you think of the government of Romania. I recommend a watch of this brief (1m 44s) bit of video to get a better idea than you may have had until now of what the current government of Romania is like. And here is another guy, talking in particular about how the Romanian secret service, of which he used to be a member and from which he resigned because he couldn't stomach how they were behaving, have been pressurising Romania's judiciary to deliver the verdicts they want. Another report: here.
At the heart of the Romanian government's horribleness is that it has set up what it and its supporters describe as an anti-corruption process, but that this process is itself being used in a deeply corrupt way, to settle political scores, by fabricating charges of corruption against people who are being a nuisance to the government. Dan Adamescu, who owned a freedom supporting newspaper, made a big nuisance of himself to the Romanian government, and this is what they did to him.
Defending the rights of a tycoon, and of his son and heir, is maybe not an easy sell. Can such personages not look after themselves? Are there not numerous cases of injustice in the world that are far more deserving of everyone's attention? Worst of all: given all the smoke that the government of Romania is contriving, might there not be some fire? Maybe Dan Adamescu is guilty.
Personally, I am persuaded that, as so often when governments persecute individuals, this is all smoke and no fire. No, Dan Adamescu was not guilty of any crime, and nor is his son.
Nor, by the way, is his son's wife, whom some thugs tried, about a year ago, to kidnap by bundling her into a car, in London. Luckily, a neighbour saw it and the thugs gave up their attempt and drove away without their intended prize. If you believe that this was a coincidence, and had nothing to do with the legal persecution of her husband, then you'll believe anything.
But what about that "more deserving cases" argument? What I, putting on my English history fanboy hat, would say about that is that a lot in a country hinges upon how the people at the very summit of power treat other powerful but not quite so powerful personages. Here in England, Magna Carta began its life as a piece of written ammunition crafted in the course of a fight between the king of England and the aristocrats of England. Yet, over subsequent centuries, Magna Carta came to mean a great deal more than that, to a great many more people than had originally been envisaged. It isn't only wealth that trickles down. Human rights, as we now call these things, also trickle down. When grandees treat each other justly, rather than in the barbarous way that Dan Ademescu was treated by the Romanians just above him in the Romanian pecking order, that is good news for all people, not just grandees.
Another example. I remember when I heard about how Nikita Krushchev had been deposed as the boss of the USSR, but not killed. This was in 1964 and I was pretty young at the time, but even then, I think I knew that this was some kind of turning point for Soviet Russia, and not in a bad way. Intrinsic to the terror that had prevailed throughout the USSR under Krushchev's abominable predecessor, Joseph Stalin, was that Stalin's immediate circle of underlings also existed in a state of abject terror.
If you live in a world where accomplished, charismatic and rich personages like Dan Adamescu are not safe, nobody is. If, on the other hand, such grandees are treated with justice rather than with brutality, everyone else has a better chance of getting fair treatment also.