The New European thinks its cartoons are a selling point: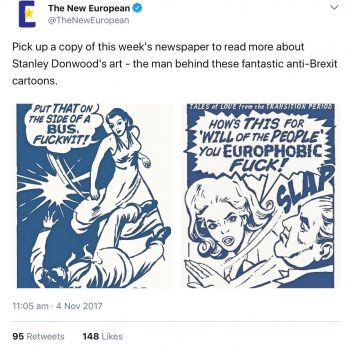 I disagree that Stanley Donwood's cartoons are "fantastic". The drawings are a tolerably executed pastiche of the style of 1950s cartoons, but there is no clever visual imagery; they merely depict one human being hitting another. Or try to depict it: in the first cartoon the chick's arm looks too limp to have just knocked that big guy off his feet, but fear not, there is a flash to show that impact did indeed occur. In the second one the word SLAP performs the same function. If you like seeing pictures of your political opponents being hit and sworn at, you will like this!
As for the words, the "punchlines" are nothing but verbal supplements to the punches. Did I say "punchlines" in the plural? There is only one between the two of them. In "PUT THAT ON THE SIDE OF A BUS, FUCKWIT!", the point is that upon the word "THAT" the woman returns the man's Leave slogan back to him by hitting him, and in "HOW'S THIS FOR 'WILL OF THE PEOPLE' YOU EUROPHOBIC FUCK!", the point is that upon the word "THIS" the woman returns the man's Leave slogan back to him by hitting him. While the visual formula of a pretty young woman knocking seven bells out of a fat old man can be repeated ad infinitum, quite soon one is going to run out of Leave slogans and demonstrative pronouns.
Overall, I am not impressed. Nor am I that much bothered. I am confident that the readers of the New European will confine their beatings of Leavers to the realm of imagination; they have plenty of practice in living in a fantasy world after all.
To be honest, the claim made by Nigel Farage to Breitbart London that the cartoons are "glorifying violence against those who voted for Brexit" is a stretch. Both the initial hard-hitting cartoons and his pulling no punches in his objection to them are best seen as just part of the good old knockabout fun of politics. But, as the saying goes, those who live by the sword die by the sword. As it says in the Breitbart article, the New European has been having the vapours about stuff like "the direct correlation between political messaging and violence" since its foundation. In this very issue it has yet another piece saying that real world harm is done by images, in this case denouncing "the complicit culture of Lad's mags". It is entertaining to see it being slapped down for the very same offence.