Recently dismissed Google employee James Damore posted a document on an internal Google mailing list entitled Google's Ideological Echo Chamber about Google's diversity policy and the difficulty of criticising it. It was originally reported by Motherboard (labelled an anti-diversity manifesto) and later by Gizmodo (labelled an anti-diversity screed). Here are some quotations from the document:
I strongly believe in gender and racial diversity, and I think we should strive for more.
I hope it's clear that I'm not saying that diversity is bad […] . I'm also not saying that we should restrict people to certain gender roles; I'm advocating for quite the opposite: treat people as individuals, not as just another member of their group
Meanwhile the very headlines of the article call this an anti-diversity document, establishing a narrative.
Here is a reaction from Laura Shortridge, a prominent commentator on Twitter: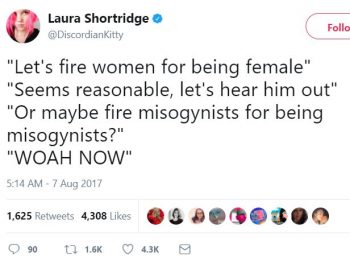 Many users responded that he had not called for anyone to be fired. A response to this objection may hint at where differences in opnion about the document originate: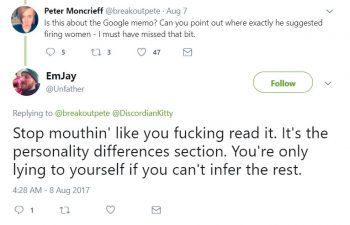 The personality differences section talks about such things as "openness directed towards feelings and aesthetics rather than ideas". It also contains more controversial-sounding statements such as "Women on average are more prone to anxiety". It cites a section of a wikipedia article about sex differences in psychology, though this may not have been known by commentators external to Google as the version of the document containing hyperlinks has only become available more recently. The Wikipedia page says, " Females were on average higher than males in extraversion, anxiety, trust, and, especially, tender-mindedness (e.g., nurturance)." It cites "Gender differences in personality: a meta-analysis" by Feingold, A. (1994-11-01). The section is in the context of coming up with suggestions to improve the work environment for women without resorting to discriminatory practices such as training courses only available to women.
The Guardian columnist Owen Jones says:
Damore's assertions about gender are, frankly, guff dressed up with pseudo-scientific jargon: not just belittling women, but reducing men to the status of unemotional individualistic robots.
On the general subject of differences between men and women, Scott Alexander has an interesting article comparing meta-studies on the subject and statistical approaches which lead to different results. He finds that:
[Author of a meta-analysis Hyde] does a wonderful job finding that men and women have minimal differences in eg "likelihood of smiling when not being observed", "interpersonal leadership style", et cetera. But if you ask the man on the street "Are men and women different?", he's likely to say something like "Yeah, men are more aggressive and women are more sensitive". And in fact, Hyde found that men were indeed definitely more aggressive, and women indeed definitely more sensitive. But throw in a hundred other effects nobody cares about like "likelihood of smiling when not observed", and you can report that "78% of gender differences are small or zero".
In his document, Damore explains that he is talking about small differences between men and women across a large population, and not making generalisations.
I'm not saying that all men differ from all women in the following ways or that these differences are "just." I'm simply stating that the distribution of preferences and abilities of men and women differ in part due to biological causes and that these differences may explain why we don't see equal representation of women in tech and leadership. Many of these differences are small and there's significant overlap between men and women, so you can't say anything about an individual given these population level distributions.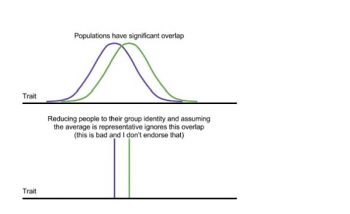 This is difficult to reconcile with reactions from fellow employees, such as, "That garbage fire of a document is trash and you are wonderful coworkers who I am extremely lucky to work with."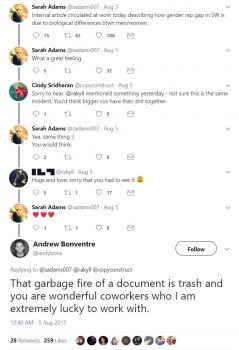 The first official response from Google was from Vice President of Diversity, Integrity & Governance, Danielle Brown.
I found that it advanced incorrect assumptions about gender.
It is understandable that someone might hold this view, though the document mainly summarised information on Wikipedia.
The CEO later said:
portions of the memo violate our Code of Conduct and cross the line by advancing harmful gender stereotypes in our workplace. Our job is to build great products for users that make a difference in their lives. To suggest a group of our colleagues have traits that make them less biologically suited to that work is offensive and not OK.
This seems to misrepresent the document, which is mainly talking about why women who do not work for Google do not work for Google. It says nothing at all about the ones who do work there.
He continues:
At the same time, there are co-workers who are questioning whether they can safely express their views in the workplace (especially those with a minority viewpoint). They too feel under threat, and that is also not OK. People must feel free to express dissent. So to be clear again, many points raised in the memo — such as the portions criticizing Google's trainings, questioning the role of ideology in the workplace, and debating whether programs for women and underserved groups are sufficiently open to all — are important topics.
It is clear the the offending portion of the document is the part that summarised Wikipedia's summary of the state of the science on the subject. I wonder whether, as a matter of debating tactics, it might have been possible to make the same points in safety, while omitting this section. On the subject of tactics, there are a couple of interesting comments about this on ESR's blog:
You can make the work environment more hostile for lots of people by saying true things. It is reasonable to fire someone who creates negative value for the company in this manner
and
if you loudly challenge the principles or initiatives which have been handed down and spearheaded by upper management, you'd be a damn fool to expect to keep your job for very long.
To the extent that these comments are true it does not speak well of the environment at Google or in Silicon Valley, but it is interesting that Damore's firing was predictable and indeed somewhat predicted in the very document that led to it.
I've gotten many personal messages from fellow Googlers expressing their gratitude for bringing up these very important issues which they agree with but would never have the courage to say or defend because of our shaming culture and the possibility of being fired.
Perhaps comments which sound inflammatory out of context can be avoided. For example, "Women, on average, have more … neuroticism" or "the Left tends to deny science". But taken as a whole the document has been treated unfairly by some.
I wonder how easy it is for Google to hire more women, given that "According to the American Association of University Women, in recent years only 20% of Advanced Placement computer science exam takers in high school have been female.".
Finally, I should like to draw everyone's attention to the Norwegian television documentary series "Hjernevask", or "Brainwash" in English, which is on this very topic, and is quite worth watching. I've linked to the first of the seven parts below:


Please make sure you enable subtitles, unless you speak Norwegian that is.