I draw the attention of Samizdata readers to this posting. This is because, although I am not a bit sure, I think that I am in favour of attention being paid to it. The posting is entitled "Snask rebrands North Korea as Love Korea with heart-focused identity". "Snask" is not now being paid by North Korea to rebrand North Korea. They just did it, to draw attention to themselves.
Here is one of the images that Snask has provided: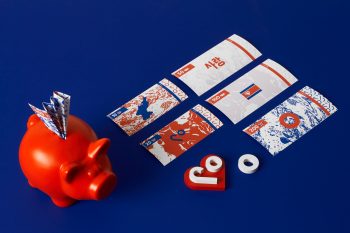 Also little-red-pig focused, it would seem. (I like how the blue background does weird things when put in front of Samizdata blue.)
Why do I favour such attention? In no particular order, here are some reasons.
Hell-holes like North Korea persist partly because the rest of the world feels that there's not a damn thing they can do to put a stop to them, so they just give up and ignore them, year after year, decade after decade. This at least stirs up some interest in North Korea, and in a new and hence news-worthy way.
This little scheme, if it is publicised enough, just might mess with the minds of the rulers of North Korea. Like me, they just might be confused about what exactly it means. But unlike me, they might be liable to brood, and to wonder how they can use it to their advantage, but whether instead, if they attempted this, it might blow up in their faces. In general, this strikes me as a way to poke this nasty little hell-hole with a stick. Well, a twig. North Korea really does, for me, I think (but am not sure), fall into the category of "something should be done this is something so this should be done". I think. I can't see this triggering a nuclear war. In fact I can't see it doing much harm at all. Mostly what it will do is get people laughing, at the very incongruity of such a rebrand, and at the Little Red Pig who is in charge of the place being rebranded. And ridicule of such people is surely good. Especially when combined with more serious pressures of the sort that President Trump is now trying to apply.
When tyrannical hell-holes start deluding themselves that they can use what is known as "soft power" – softly, so to speak – that sometimes heralds their demise. Remember "glasnost". That began as an exercise in old-school Soviet bullshit, to the effect that Soviet Communism was capable of becoming a lot nicer that it ever really could. Which encouraged the thought that the real way to make Soviet Communism a lot nicer would be to shut it down, there being no other way. It's a long shot, but some similar delusion might be encourageable in the head of the Little Red Pig and his minions. (By the way, I also think that Trump tweeting about how he respects, or whatever was the wording, the Little Red Pig, could have a similar effect, accompanied as such thoughts have been by those serous pressures.)
But, like I say, I am not a bit sure about this. I am merely thinking aloud. Thinking aloud from others would be very welcome.