Finally, all those silly season, slow-news-week fashion commentary pieces, about how this or that colour that isn't black and never will be is now "the new black", can cease. Vantablack is the new black.
This new black has been contrived by a bunch of nano-techies working for something called Surrey Nanosystems. The point about Vantablack is that it is really black. They claim that Vantablack absorbs all but 0.036% of the light that strikes it. Normally, if you shine a torch at a black surface, you can see the light from the torch registering on the supposedly black surface, in other words being reflected rather than absorbed. But Vantablack just gobbles up all the light and continues to look totally black. You'll be double-checking your torch to see if it is working. This is a godsend for space telescopers, and for the makers of very high-end cameras of all kinds.
The original target for Vantablack was the suitably money-no-object space telescope business. Space telescopes need to minimise – really minimise – the number of light particles that bounce about inside them in the wrong places and blur the resulting images, and Vantablack absorbs light particles to a unique degree.
But Vantablack also has potential applications in art and in the world of luxury design, which is why I first heard about Vantablack at Dezeen, the design website that I frequent. And then, quite recently, I encountered mention of Vantablack at David Thompson's blog, in one of his lists of internetted oddities, and then at Instapundit (who feared it might be an April Fool prank). I imagine it has been much the same for all internetters with any interest in such things, large numbers of whom will by now have heard of this remarkable, newly invented-stroke-discovered material-stroke-paint, which is blacker than the blackest black ever not-seen before. The Vantablack story combines hot button highest-technology issues, like nano-tech (which was how they did it) and space exploration, with a visual outcome which is very bizarre, but the basic nature of which can be understood by almost anybody. An ideal combination for virality.
In the event that you have somehow managed to miss this story, you can get some idea of how very black Vantablack is by pondering this image, of a mask, together with the same mask covered in the liquid version of Vantablack. The Vantablacked version of the mask might as well be a flat piece of cardboard for all the 3-D shape detail you are able to discern by looking at it. You'd need to be a bat to make sense of it: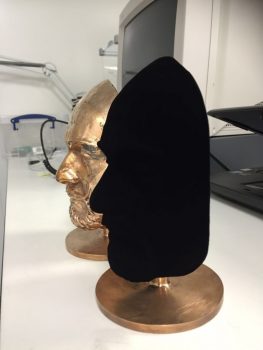 That image is to be found at a British Museum posting entitled Vantablack is the new black. I googled that gag, confident that someone would already have used it as a heading, and so it proved.
Some idea of the sensation that Vantablack has been provoking may be gleaned from this page at their website, where it says this:
… Please note that we are unable to respond to private email addresses for the following requests:

– Coating a car, motorbike or bicycle

– Use of the coating in personal art

– Coating household objects, rooms or musical instruments

Our FAQs address these questions in detail.
It was in answer to the FAQ about just how dark Vantablack is that I got to that 0.036% number, see above.
Here is another page at the (excellent, I think) Surrey Nanosystems website (with its appropriately black background), at which they describe the kind of careers they are now offering, to the right candidates:
Internal Sales exc – Background in scientific or a technical subject, and at least 3 years commercial success in a B2B technical sales role.

Internal Applications Engineer – Background in aesthetic design – Vantablack design applications interface to external customers
This is the kind of story that just goes to show how right anyone who notices it has always been, all along, about everything.
If you are the kind that blames capitalism for causing poverty (instead of praising capitalism for getting rid of poverty, the way I do and you should) then perhaps you will say that Vantablack proves how frivolous capitalism is, making black even blacker when there is still so much misery in the world. If you believe that universities should get more government money (Vantablack emerged from the University of Surrey), well then, you'll say that Vantablack proves that universities should get more government money. If you are an anti-Trumpist or an anti-Brexiteer, you will regard the Vantablack story as proof that we really are living in uniquely dark times. If you are the kind of commenter here whose reaction to any new-tech fuss we report is that it is a fuss about nothing, or perhaps if you are the sort who wants to make fun of such grumpiness, you will perhaps even now be contriving a comment that includes the words: nothing to see here.
Me? Well, yes, hurrah for capitalism, and all that. But what I really want to see is what other uses are found for this remarkable new trick, once the economies of scale kick in and it starts getting a bit cheaper.
In particular, I note the last sentence of the answer to the FAQ about what Vantablack is used for? Cameras, space telescopes, luxury trinkets. But then this:
… Its ability to absorb light energy and convert it to heat is also of relevance in solar power development.
"Of relevance" suggests to me that they may still be struggling with the details. But: just what I'd been thinking. If all that light energy doesn't bounce back at you, it has to go somewhere else. Why not into a battery?