As I work away at a talk I am to give tomorrow evening at Christian Michel's, I am also, of course, wandering about in the www. And during the latest wandering I was provoked into thinking about another talk, one that I will be hosting rather than giving, on the last Friday of February. Marc Sidwell will, that evening, be speaking about: "Twilight of the Wonks? Promoting freedom in a post-expert world".
This rather witty cartoon, which I came across here, is very pertinent to Marc Sidwell's talk, I think: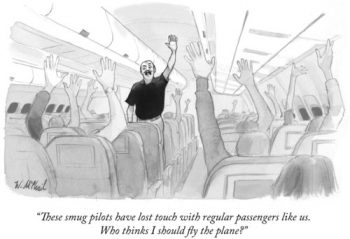 This cartoon is now to be seen all over the www, partly because, I surmise, both sides of the argument that it alludes to are drawing attention to it. The Clintonians are pointing at it and saying: there, look at those silly Trumpsters, all voting to crash and burn America. And the Trumpsters are pointing at it, and saying: look at those smug liberals assuming that they are better at flying the airplane of government, in the way that a pilot obviously is better than his mere passengers at flying an actual airplane. They just don't get it, blah blah.
The point being: there is being an expert, where you actually do know essential stuff. And then there is being an "expert", where what you say you know or think you know ain't necessarily so.
Personally I favoured and favour Trump, partly because I put Hillary Clinton into the latter category, of being an "expert" with sneer quotes rather than without them. She has a long career of crashing whatever metaphorical airplanes she flies, her email fiasco being only one of the more recent of such crashes. Crashing rather than flying is what she is "expert" at. And her speeches over the airplane intercom only convince those already convinced. Many feel the exact same way about Trump, but my impression, reinforced both by his campaign and by how he has conducted himself since his campaign ended in victory, is that when it comes to being less un-expert, Trump wins compared to Clinton. We shall see.
I also prefer, with all the usual libertarian reservations, the ideological agenda that Trump, almost despite himself, is now dragging into greater prominence. The agenda (see this gigantic crash) that Clinton would have kept in great prominence is one that I detest.
I will now send the link to this posting to Marc Sidwell. If you would like to learn more about attending the meetings I host every month, and/or those that Christian Michel hosts, email me by clicking on where it says "Contact", top left, here.
LATER: See also what Instapundit says.