From Instapundit (my emboldenings):
The miniature Perdex drones, different from larger, more common remotely piloted vehicles (RPVs) like the well-known Reaper and Predator, operate with a high degree of collective autonomy and reduced dependency on remote flight crews to control them. The large group of more autonomous Perdex drones creates a "swarm" of miniature drones. The swarm shares information across data links during operation, and can make mission-adaptive decisions faster than RPV's controlled in the more conventional manner.

In a statement released by the U.S. Department of Defense, Strategic Capabilities Office Director William Roper said, "Due to the complex nature of combat, Perdix are not pre-programmed synchronized individuals, they are a collective organism, sharing one distributed brain for decision-making and adapting to each other like swarms in nature," Director Roper went on to say, "Because every Perdix communicates and collaborates with every other Perdix, the swarm has no leader and can gracefully adapt to drones entering or exiting the team."
Doctor Who fans will know exactly where this sort of thing leads: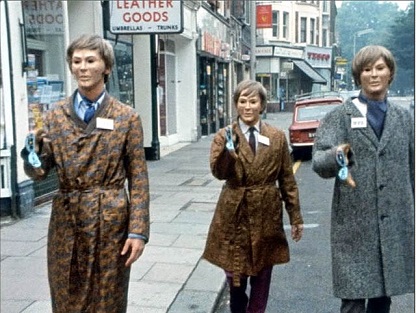 You have been warned.