I believe in making a bit of a fuss about visiting pro-free-market luminaries. Our movement needs celebs, and one good way to get celebs is to make our own people into celebs. One more photo of whoever it is, on a blog, won't turn him into a celeb on its own, but every little helps. So, below is a photo I took last week, of Robert Lawson, during the Q&A after a talk that he gave at the Adam Smith Institute office in Great Smith Street, on the subject of the Economic Freedom of the World, and more to the point, on the measuring of it: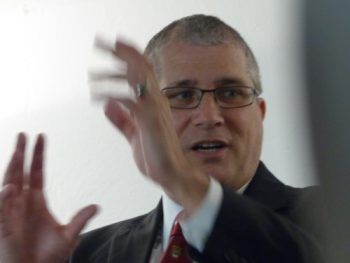 He looks like he's conducting an orchestra, doesn't he? Actually, he was drawing graphs in the air in front of him. The lighting in the ASI's upstairs premises where this talk took place prefers to light the walls rather than the speaker, so that was one of the very few semi-adequate photos of Lawson that I managed.
This other photo, on the other hand, which showed the final graphic that Lawson gave us on one of those big telly screens that used to cost a fortune but which are now ubiquitous (thank you: economic freedom), came out much better, because the screen supplied its own light: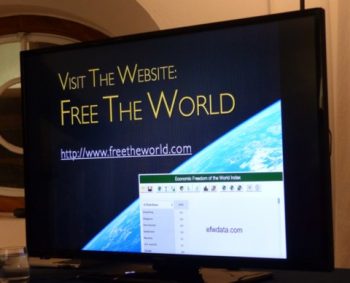 Free The World indeed.
This work by Robert Lawson, putting numbers to which countries are doing what in the realm of economic freedom, should not be confused with that being done by a rival enterprise, the Heritage Foundation.
It's good that there is competition in this important intellectual arena, but to me it is very confusing, and I don't think I am the only one thus confused. The ASI email about the event included the words "Economic Freedom of the World Index". But googling for that before the event took me to this Heritage site. On the subject of this rivalry, Lawson was very polite, and I think we all sensed some behind-the-scenes animosity there. He described the Heritage Freedom Index as somewhat more speculative and opinion-based and less based on actual data sets, supplied by others, than his own efforts. "Black box" was the phrase he used, by which he meant that it is harder to scrutinise how the decisions were arrived at in the Heritage process than it is to scrutinise the Fraser Institute process. In contrast, all the data that Lawson referred to in his talk, with his other graphic offerings on the screen above, is publicly available.
Here is a .pdf of the Economic Freedom of the World 2016 Annual Report, which tells the story as of 2014, which I believe is the latest date that Lawson has done the sums for. Scroll down to page 8 and you get the big national league table. The positions I notice are: Hong Kong in the lead, the UK at number 11, USA at 16. Hong Kong is top every time. The UK is holding about steady. The USA has been falling steadily during the last couple of decades or so.
Lawson also drew our particular attention to that remarkable ex-USSR-possession, Georgia, which is trying to do a Leicester City and is currently at 6. (Heritage doesn't include Georgia in its top 10.)
And so on. Hours of fun to be had. The more serious point is that economic freedom the world over had been rising healthily until about 2010, but is now flatlining.
True Believer Austrianists might have winced a little at Lawson's determination to be empirical, to gather evidence, to test theory against fact. He was quite explicit that social science, broadly defined (in the German manner) to mean systematically gathered and systematically tested knowledge about how the world works, is something that is entirely possible. He pointed out that economics is not the only science that is unable to conduct all the experiments it might like to, but instead must mostly depend on theories, and on observations to test those theories. When was the last time you saw an astronomer conducting an experiment with some planets or stars?
But, please don't take my word for any of this. Thank goodness for those websites, because if you really want to get to grips with all this stuff, you need not depend on me to tell you about it. All I really want to say here is: interesting man, interesting talk, and well done the ASI for hosting it. Apparently Lawson was only here because he wanted to be at this sporting event, last Sunday. If so, then thank you: sport.