Today, I am in my usual last Friday of the month tizz, because this evening I have an event in my home, and I am, as usual, behind in my preparations. This particular event is more than usually tizzual, on account of it being not a sit-down talk but a stand-up performance, by Dominic Frisby. Frisby is honouring my home with an early dry run of his forthcoming Edinburgh Festival show, Let's Talk About Tax, which he will be performing in Edinburgh from Aug 3rd until August 28th.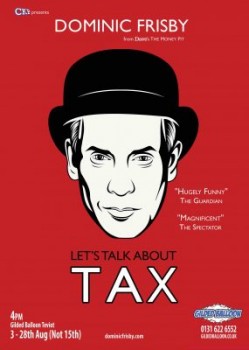 I am not doing this blog posting because I need more people to come to my home this evening. I can fit in a few more, but I already have a decent number of acceptances. Nor am I doing this blog posting to tell you what a brilliant show this is. It is being done by the always entertaining and always thought-provoking Dominic Frisby, so I expect it to be entertaining and thought-provoking. But meanwhile, I haven't yet seen it.
No, what I want to do here is simply to praise Frisby for the fact of this show. Even if – worst case – it flops in Edinburgh, which I don't think it will, but even if it does, … well played sir! The fact that Frisby is sallying forth to the Edinburgh Fringe, one of the key facts of British showbiz life where would-be upwardly-mobile entertainers all vie with one another to make their mark as writers and performers, and that he will there proclaim the sort of pro-free-market notions and crack the sort of pro-free-market jokes that seldom get spread or cracked in this arena or similar arenas, is cause for praise in itself. The way to get anything started is to start, and this is a start. In the illustration above, Frisby is wearing a hat. Were I now wearing a hat, I would take it off to him.
I did an earlier posting here, praising Frisby's excellent book Life After The State. Today is, see above, a busy day for me, so to save me the bother of making the same point in different words, please allow me to quote myself and make a point I made in that earlier posting, in the same words:
If we think that showbiz people typically proclaim bad political ideas, then our task is to persuade such people to think better and to proclaim better ideas, rather than us merely moaning that such people somehow have no right to be heard opining at all, about anything except showbiz. Maybe it is in some ways true that celebrity opinion-mongers shouldn't be paid attention to, as much as they are. But they are, if only because being paid attention to by lots of people is the exact thing that these people specialise in being very good at. Maybe people are foolish to get their foolish political ideas from politically foolish showbiz people. But many do. Whether we like it or hate it, recruiting at least a decent trickle of showbiz people is a precondition for us achieving any widespread public acceptance of our ideas.
I rather think that this show marks a new moment in Frisby's career. At his website, he describes himself as a Financial writer, comedian, actor of unrecognized genius and voice of many things. The "voice of many things" bit concerns his voice-over work, often to be heard on British TV. But note the "financial writer, comedian" bit. Hitherto, Frisby has tended to keep these two activities distinct from one another. As a speaker and writer on libertarian friendly matters he is always witty and entertaining, but he hasn't, when doing that stuff, gone straight for laughs. He has basically been arguing and informing. Yes, with a smile on his face and plenty of reader and audience amusement as well as thought-provocation. But basically, he has done comedy for laughs and when being serious he has been serious. This Edinburgh show, on the other hand, looks like it may mark the moment in Frisby's career when he seeks to combine his financial thinking and talking and writing with comedy.
I wish Dominic Frisby all possible success in this enterprise, and hope that others follow where he is leading.