It is, as I type this, only a few hours since the polls closed, and this graphic is not the result of Britain's General Election. It is merely a guess, based on asking people just after they had voted who they voted for. But, for what it's worth, here it is: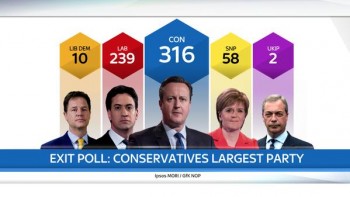 I found it at the Guido Fawkes blog, which has been the pair of spectacles, as it were, through which I have mostly been viewing this now-concluded election campaign.
I have learned the hard way that what I hope for and what will happen in elections are not the same thing, not least because I tend to choose my electoral spectacles on the basis of pleasure rather than mere enlightenment. But the story told in the above graphic is very close to what I was and am hoping for, given the plausible possibilities or likelihoods that it made sense to be choosing between.
(What I would have liked, in a perfect, parallel-universe and wholly implausible world, would have been an election in which candidates were falling over themselves to offer swingeing tax cuts and competing about who could close down the most government departments and slash and burn the most in the way of government spending. All this, while the voters all stood around jeering, and saying: "Yeah, they say they're going to slash and burn the public sector, but do they really mean it? They would say that, wouldn't they?" Dream on, Micklethwait.)
The TV broadcasters have now been saying, for several hours now, that the Conservatives are doing significantly better than had been expected but not well enough to be truly happy because destined to occupy more Parliamentary seats than everyone else put together, that the Scottish Nationalists are engaged in sweeping Scotland and annihilating the Scottish Labour Party thus causing Labour, who are not doing well in England anyway, to do very badly indeed in the UK as a whole, that the Lib Dems are taking a hammering everywhere, and that the UK Independence Party is going to get a small mountain of votes, including a great many from Labour, but only a tiny molehill of seats.
The biggest story, as I watch my telly in the small but getting bigger hours of Friday morning, is the electoral earthquake (choose your preferred geological or climatological metaphor) that is erupting, exploding, sweeping across, engulfing, swamping, blah blah blah, … Scotland.
As one who detests the Labour Party, and who in particular detests the way that Scottish Labourites have been in the habit of ruling us English like a bunch of medieval aristocrats from a different part of Europe ruling a country full of alien serfs, I am delighted about what is happening in Scotland. Some hours ago, I heard a UKIP guy on the telly trying not to be too gleeful about how the Scottish Labour Party (Gordon Brown in particular) had huffed up and puffed up a great wind of anti-English feeling in Scotland, for Labourite electoral purposes, and were now reaping the whirlwind. I share that UKIPper's glee, but not his professed desire to conceal it. Another guy, the Labour Party's Owen Jones, explained how Labour lining up with the Conservatives during the recent referendum campaign made them many enemies among Scottish Labour voters, who thus switched to the SNP, like spurned lovers.
Inevitably, it will be argued that Scottish independence is now back on the map, and that there will very soon be another referendum. Interestingly, the Scottish Nationalist leader is not herself now saying and has not been saying this. She wants to maximise Scottish clout within the UK. So, maybe there will not now be a big push towards Scottish independence. Or, maybe there will be a referendum, again, but maybe "No" (to Scottish Independence) will win, again. In other words, many who voted No in the last referendum campaign then voted SNP in this election, but will again vote No in a later referendum. Plus, and I forget where I read it, but someone recently pointed out that if you get forty something percent of the vote in an independence referendum, you lose, but if you get the exact same percentage in a general election, but if the opposition to you is divided between several different parties, you win, huge. Thus, the SNP, on the back of nothing like all the votes in Scotland, are now going to be the only major political party in Scotland.
But eventually, I think, Scotland is going to go independent. And so do lots of others, which actually means that it will probably happen quite soon. Once you lose the future, as the "UK" is now losing it, that means that everyone, even those who regret the future that they now see as inevitable, had better all get used to the different future, and the sooner everyone does that, the better. This was also how the USSR collapsed. That lost the future, and just as soon as it did that it disintegrated, with startling suddenness to all but the very few who had been paying close attention to this circumstance.
To repeat something I have attempted to explain here before, the basic reason that I think this about Scotland is not so much because of popular opinion, but rather because of official opinion. Anglo-Scottish unity, in the "UK", just is not the big deal that it used to be.
I believe that the end of the necessity for such unity, in the eyes of those who have the clout to allow such arguments to take place, or if they prefer this to silence them, came when the Cold War ended. That was when the rulers of "Britain" switched from definitely requiring Scotland to remain in Britain to being neutral about this. For as long as "Britain" had to be able to threaten victory in a re-run of the Battle of Atlantic, then Scotland had to stay in the fold. But now, the security threats to Britain, England, Scotland, whatever, are not of the sort that they were. Budgets that used to go on port facilities and aircraft carriers and armies and navies and airforces now go on such things as internet security and phone-tapping.
What this has meant in this particular electoral campaign is that the Conservatives did everything they could to boost the Scottish Nationalists, by for instance contriving that the SNP leader participated fully in British leadership telly shows. This was because smashing the Scottish Labour Party was far too enticing a project, for the English Conservative leaders, to be trumped by any supposedly over-riding need to preserve the Union. Preserving the Union is just not that over-riding, the way it once was. If Scotland goes independent, well, that would be most regrettable, but if so, so be it.
Crucially, the Unionists in Scotland, of whom there have been a very great many over the years and who have been very vocal and determined people, will have been noticing all this for quite some time. They are now being betrayed by their former Conservative ("and Unionist") English allies. These Scottish Unionists can surely now see the writing on the wall, to the effect that Scottish separation is only a matter of time.
Scottish BBC lady Kirsty Walk has just been saying that, indeed, the SNP's leader won't be wanting another referendum any time soon. What she will want is to "extract a price" for the continuation of the Union. Careful Madam Leader. We English just might decide that we don't want to pay your price. She'll say something like: pay this much to Scotland, or we leave, assuming we'll just hand over the cash. But, we just might say: okay then, bye bye. You think this can't happen? This is exactly what did happen between Czecho- and Slovakia.
The next story, if I can muster the time and energy to write it, some time tomorrow morning or afternoon, is that the Lib Dems are being royally stuffed. Good. I can't now find the piece here in which I explain just why I so totally despise the Lib Dem Party, but it is here, somewhere. Tomorrow I will perhaps try to find it. Vince Cable has just got the boot, and I think I heard, an hour or more back, that the abominable climate catastrophist, Ed Davey, had also been dumped. Yes.
Final point: which is that, finally, at about 5 am, the telly people are at last starting to realise what had been obvious to me from the start, which is that the Conservatives might do even better than that 316 number that the exit poll predicts, to the point where they get an overall majority. They only need to get a handful of seats more than 316 for that to happen. For about the last five hours, all the telly people could think to say was that 316 was the upper limit of what was possible for the Conservatives. But why could that number not be wrong, in being too small? I predict nothing. I merely ask.
Now I'm finalising this, and the BBC is now saying it: small Conservative absolute majority.