The Internet is working well, so it's not obvious that the FCC needs to help it. American companies own 10 of the world's 15 largest websites (Google, Amazon, and Facebook to name an obvious few); the United States has greater access to advanced cable and fiber networks than any large country except Japan; it was the first to deploy advanced 4G/LTE mobile networks; it has more smartphones than anywhere else in the world; and it exports more digital goods per capita than any other nation.
These facts are indisputable, so they're simply disregarded by the Internet regulation advocates campaigning for net neutrality. Among the arguments they use to make their case are that some foreign cities and small nations have built extremely speedy residential networks; many of these offer Internet services for a fraction of U.S. prices; rural American communities have slower and less reliable networks than cities do; and many older people have no interest in venturing onto the Internet at any price.
A core problem with these arguments is that they are, in truth, unrelated to net neutrality.
The FCC says it's not passing new rules in hopes of improving the Internet but to preserve it as it is with "light touch regulations." The agency is taking action because courts have voided all but a sliver of its three previous sets of rules. And President Obama raised the stakes by publicly urging the FCC to impose the "strongest possible rules" on the Internet to fill the regulatory vacuum.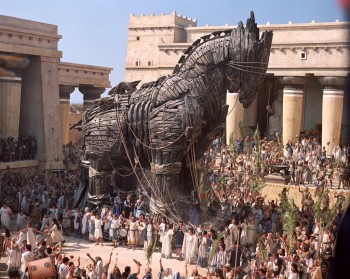 "Oh cool, lets drag this fascinating item of modern art inside our gates!
After all, we are technically savvy guys and not credulous fools.
What could possibly go wrong?"