Great confidence is being expressed about how robot cars are about to change the world. Robot cars, says a typical headline that Google (one of the prime movers in this new technology) has just today alerted me to, may be coming sooner than you think. But doubts are also being expressed:
A good technology demonstration so wows you with what the product can do that you might forget to ask about what it can't.

Case in point: Google's self-driving car. There is a surprisingly long list of the things the car can't do, like avoid potholes or operate in heavy rain or snow.

Yet a consensus has emerged among many technologists, policymakers, and journalists that Google has essentially solved – or is on the verge of solving – all of the major issues involved with robotic driving.
"Essentially". That's a word that often means "not". And "on the verge of" often signals a problem that turns out to be hideously intractable, as year after year passes with nobody any nearer to a definitive answer. I seem to recall an entire British high speed train project being abandoned because they just could not make the tilting of the carriages work perfectly. It worked okay, but okay wasn't good enough. It had to be perfect, and perfection proved elusive. Here is what wikipedia says about that, for whatever wikipedia may be worth when reporting a story that remains controversial.
Even that constantly repeated refrain about how robot cars are coming "sooner than you think" is, if you think some more, an acknowledgement from robot car boosters that there are actually widespread doubts out there in the regular, non-techy world about how well these devices really will work, and how completely, above all how quickly, all the problems that they will face have really been and will really be solved. Yes, the techies will eventually get their robot cars working, probably. But for a few more years yet, there will surely be a nasty little clutch both of known unknowns and of unknown unknowns to deal with, all of which will have to be thoroughly dealt with. Crucially, such problems will all have to be solved. If robot cars get the go-ahead and work flawlessly for two months, followed by a lurid catastrophe like something out of a disaster movie, when a bunch of robot cars all follow each other into a swamp or over a cliff, or just run amuck and kill dozens or even hundreds in one catastrophe like in a plane crash, then their introduction will be judged a failure rather than given nine out of ten for technical accomplishment and an A plus for effort.
This strikes me as a lot more immediately promising: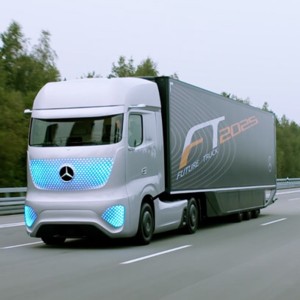 I found that picture here. I first came across the story here:
The latest truck concept from Mercedes-Benz doesn't look like anything crazy. Its design is a bit unusual, and it's loaded up with LEDs instead of headlights and cameras instead of side mirrors. But those modest tweaks to conventional design hide the fact that this is a serious bid to revolutionize the trucking industry. That's because the "Future Truck 2025" drives itself. And while it's a prototype, Mercedes is serious about spending the next decade getting it – and us – ready for commercial use.
Robot passenger cars will eventually bring huge benefits. They will be epoch making, when the robot car epoch does finally arrive. I truly believe this. But in the shorter run, the problems of robot cars strike me as bigger than all the car and hi-tech companies are implying, and the benefits less immediate. Robot cars will presumably be good at finding their own parking spaces, and at making themselves useful to others if you aren't using yours. Robot cars will presumably be less prone to error than humans, except when that turns out not to be the case. But what of those potholes?
In the meantime, making lorry (as we Brits call "trucks") transport only somewhat more efficient will yield huge, very quantifiable, and fairly immediate benefits. Even if all they do to start with is robotise lorries on motorways, that would surely make a huge difference.
The motorway is the natural habitat of the big lorry, and is a place of far greater predictability than roads in general and hence more congenial for robots, especially robots in their early stages. Motorways are already highly controlled places, and are surely the right part of the road system to start introducing robots, not country lanes or city streets filled with complicated and unpredictable hazards.
Human lorry-drivers get tired, but robots don't. A robot lorry could cross a continent with all the dogged, error-free serenity of a jumbo jet on autopilot crossing the same continent in the air.
At first, humans would need to sit in the lorries to check on their progress all the time, but pretty soon the human could be taking a nap and it wouldn't matter. Not long after that, once everything has been shown to work, humans would not be needed to sit in lorries on motorways at all. Soon, all that the humans would need to do is collect the lorries (perhaps just the load bit) from their local off-motorway lorry parks, to which the robot lorries had driven themselves. Upon that solid technological foundation, lorries further into the future could then start travelling much faster. (I seem to recall a plan to concrete over railways and turn them into roads. Maybe that notion will be revived.) They could also make their way into the road system generally. The economic impact will surely be colossal, and more immediate than is the case for robot cars.
Before this Mercedes robot lorry story emerged, I had already asked fellow Samizdatista and techno-guru Michael Jennings what he thought of the notion of robot lorries. His main observation, if I remember what he said right, was that large-scale freight transportation in the USA is now a largely railway thing, hence the greater interest in the USA in robot cars rather than robot "trucks". However, in Europe, where the railways are too full of humans to be able to carry much freight, manually driven lorries are already a very big deal, which means that robot lorries in Europe might make a much bigger difference. So it is no surprise that the robot lorry idea is getting its first big public boost from a famous European motor vehicle company.
But, what do I know? I look forward to reading the comments on this, both from Michael Jennings if he has more to say, and from anyone else who cares to join in. This is the kind of thing that the Samizdata commentariat is especially good at talking about.