Earlier this week I got back from a week in Brittany. During the first few days of my stay, I and the friends I was staying with visited the island of Belle Ile. Their daughter is my god-daughter, and she was singing (very well) in a classical singing festival that happens in Belle Ile every year.
While in Belle Ile we also enjoyed other sorts of music making. In particular, at midday, in the fish market of Belle Ile's biggest town, La Palais, we listened to a small beat combo called, as I later learned from the small print in some of my photographs, Les Gadgos. Les Gadgos are a bunch of blokes, but they have engaged a lead singer for their latest clutch of songs and their latest CD, a blond chanteuse named Mélody Linhart, who looked weirdly matter-of-fact in her days clothes. But she sang very well, in English. She did various venerable American standards, like St James Infirmary, and slightly more recent American movie tunes, including I Want To Be Like You. She made the latter piece of froth sound almost as profound and existential as St James Infirmary.
But take a look at this other Les Gadjos person, who I now know to be called Clément Lenoble: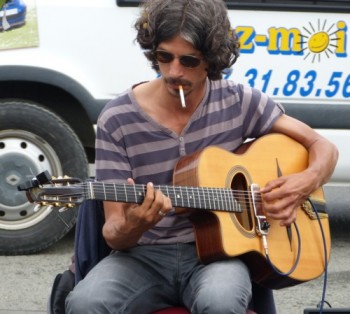 A classic French type, I think you will agree. But that cigarette was actually quite a surprise, because Clément Lenoble was one of the very few people whom I observed during my week in France who was smoking. There were a few. He wasn't the only one. But the basic news is, those Frenchies are no longer fumer-ing. Not the sort who live in or summer in Brittany, anyway.
Instead, this business is on the up and up: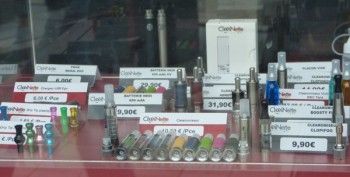 That was just a clutch of e-cigarettes in the window of a shop that also sold other stuff. But later, I came across an entire shop devoted to this one product: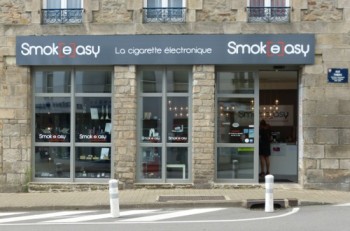 French smokers are a dying breed. No doubt, anti-smoking fanatics would reply that they're a dying breed because smoking is killing them all off, and I do agree that this change of habit is probably a good thing. But even so, I miss guys like this, singing their gravel-voiced chansons in bars, with their whiskey glasses on the piano and their gauloises hanging down from their creased and lived-in faces. Or maybe I just miss the idea of such people, being around, in France.
Smoking is now illegal in most public places in France. I just wish les pouvoirs-that-be had been content to let the habit die away of its own accord. But that is not how such people think.
I also photoed many other more fun things.

Such as …
… cool cars: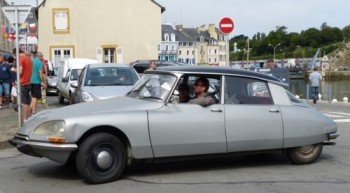 Did you know that DS, when said in French, sounds like the French for goddess? Very appropriate.
I saw a "car" that was maybe not so cool, driven by a fan of or maybe even a member of another beat combo, Status Quo:
Note the British number plate there. I didn't spot this at the time, but the camera spots everything.
And, I saw the biggest and weirdest sidecar I have ever laid eyes on: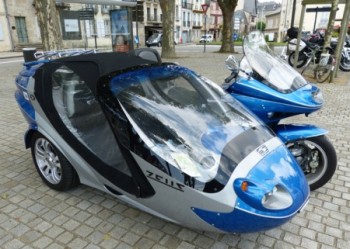 It's a two seater sidecar!
The French do love their motorbikes, small, large or huge. Next to that huge sidecar contraption was a huge Honda motorbike that looked like a larger than life parody of a Harley Davidson. The French particularly love their Harley Davidsons. I swear I saw more Harley Davidsons in Brittany than I saw smokers. French people are still willing to risk death to enjoy some pleasures.
I saw amusing signs, …: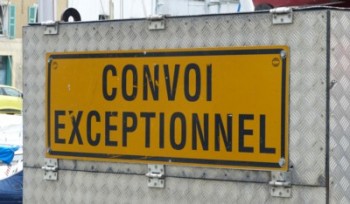 … which seemed significant: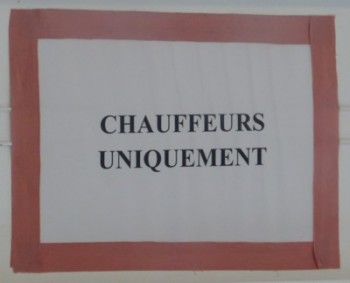 … or titillating: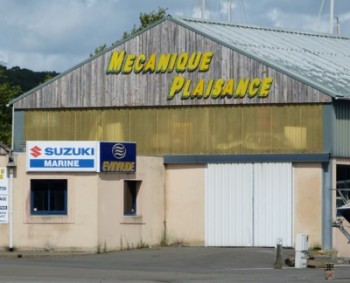 … but which generally turned out to mean something dull.
I saw informative street name signs, such as one that I managed to snap while in a bus (hence the car reflection in the bus window):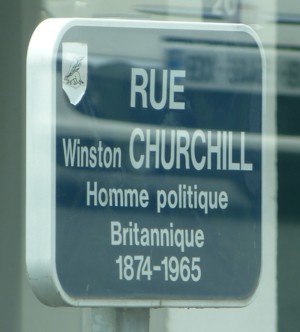 Every two out of three street signs in France is a small history lesson of this kind, which I actually quite like. Here in England, this would just have said Churchill Street, and in due course, few would have known who that was. (For many in England now, already, Churchill is a cartoon dog who sells stuff on the telly.) In France, on the other hand, you get told the name of the bloke, and his dates, and a brief title or job description. But then again, I also like the much greater variety and quirkiness of English street names. In France, there would only be a Pudding Lane in the middle of Paris if Marcel Pudding (1470-1536) had spent the last few of those years being the Archbishop of Paris, or some such thing. It's the difference between a world in which They decide what streets are called, and a world in which it is more randomly decided, more freely decided.
I spied, somewhere in northern France, from the Brazilian made airplane that took me to Quimper from London City Airport, a farmer who seemed to have distinctly Nazi tendencies: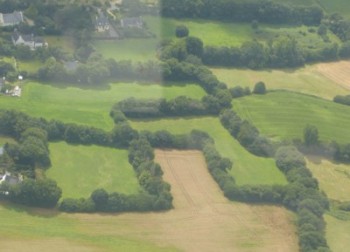 And to continue with the farming theme, I saw a tractor made of straw: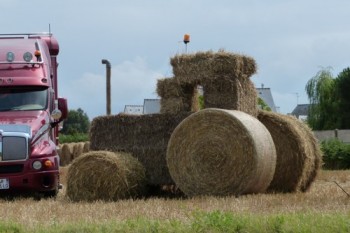 I spotted trains: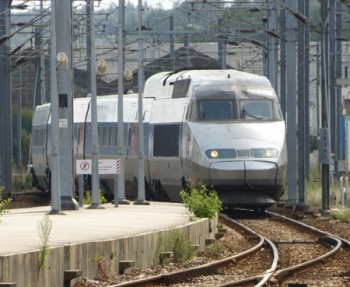 That was the TGV that took me on a day trip from Quimper to Vannes (which sounds a lot like a campervan trip, doesn't it?, ho ho). But it didn't go very fast. The TGVs from Quimper to Paris dawdle at first, only accelerating after they get past Rennes. It reminded me of the time when cross channel trains from Waterloo to the Continent used to trundle slowly through the south of England until they were through the Channel Tunnel.
And, as I also like to do, I spotted cranes, of which this one was by far the most interesting: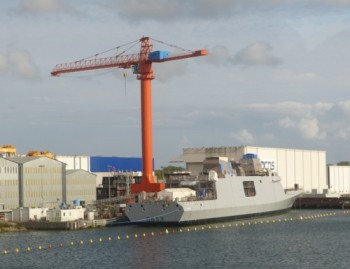 That was taken from the train on the way back from Vannes, as it either approached or had just left its stop at L'Orient. L'Orient is a big naval base, having been a big German submarine base during WW2. And that, unless I am much mistaken, is a warship (of the new stealth-inclined variety) that the crane is tending to. And that crane also looks to me like a war crane. Most cranes, perched as they are on flimsy looking structures not much sturdier-looking that their big sticking out arms, look like they'd topple over in a stiff breeze, even though they actually wouldn't. But that crane looks like only a direct hit with a bomb would stop it from craning.
And I saw lots of boats: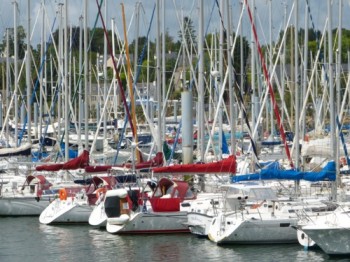 Seriously, lots of boats: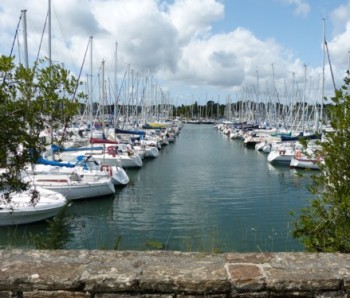 … which seldom seemed to be being used apart from very occasionally, as floating but still stationary and rather cramped outdoor dining rooms. Is the French economy on the slide? If so, this is because they have spent all their spare cash on boats, and I don't mean stealth war ships.
And (as I especially like to do) I photoed photographers: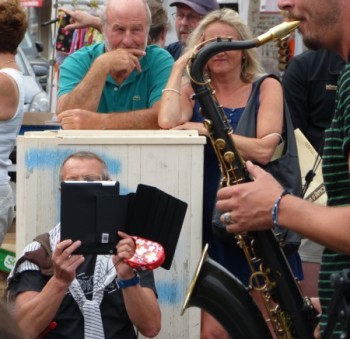 That guy was photoing Les Gadgos, whose saxophonist (Adrien Roch) you can see on the right.
However, I did not see that many photographers in action, during my week in France. There seem to be real national/cultural and national/temperamental differences when it comes to photography. One reason, for instance, why the photographer count in Brittany seemed to be quite low is that Chinese and Japanese tourists do not seem to be aware of Brittany's existence, or not yet, and they love to take photos. I saw few orientals in Brittany, and none – not one – in Belle Ile, even though the place was crammed with holidayers, including quite a few other Brits.
Photography seems now to be settling back into a twin-track thing, that many do with their mobile phones for fun and to take notes or keep records of various kinds, but which only a comparatively small percentage of obsessives like me does with dedicated cameras, or with big tablets like the above gent was using. The photography magazines that you now see in the shops, which used a few years back to be all about how to choose your new camera, are now mostly about how to make better use of the camera you already have.
Photography, in other words, is sliding back towards the days when a few hobbyists used cameras like the one in this picture …: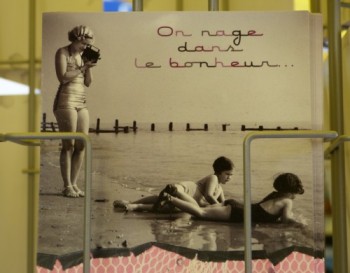 … and when regular people did not.
Could it be that only certain people care more about how their pictures look than they care about how they themselves look? That is part of it, I think. But then again, many good looking people also like taking pictures, of themselves and of their good looking friends, perhaps partly because this draws attention to how good looking they are.
One thing has definitely changed for good, in both senses. Time was when people like me would bore their friends and neighbours with appalling holiday photo evenings, which could not be ignored without risking unfriendliness or unneighbourliness. Now such snapathons are on the www and can be ignored at will with no social cost.
If you got this far with this snapathon, you must have been enjoying it, or you at least never quite gave up hoping that you might. If such hopes were never realised, my apologies.