The public sector strike the other day, which Perry welcomed and I did not notice, was nominally about austerity. I have heard various conflicting claims about UK government spending, so I decided to find out myself and make my own graphs using figures from ukpublicrevenue.co.uk and ukpublicspending.co.uk.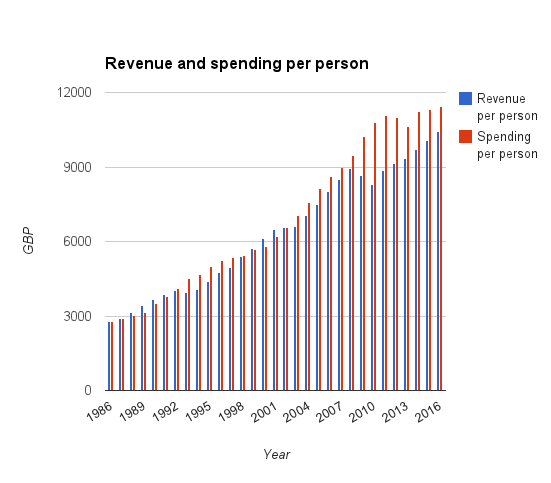 Spending did go down a bit in 2012 and 2013, so I suppose that is the austerity. But it is still higher than in 2009, and much higher than revenue, even though the latter has increased every year, contrary to the narrative that austerity is to benefit rich taxpayers.
The years 2014 to 2016 are estimates, which if to be believed indicate the plan is to resume the growth of the state.
These are absolute numbers. Other charts I have seen correct for inflation or GDP and population. I do not trust official inflation figures, and I think government spending makes the GDP statistic less useful. So I got average earnings figures from measuringworth.com and using the population figures from ukpublicrevenue.co.uk calculated spending per person as a percentage of average earnings. This makes sense to me because the fraction of my earnings that are appropriated by the state is what directly affects me.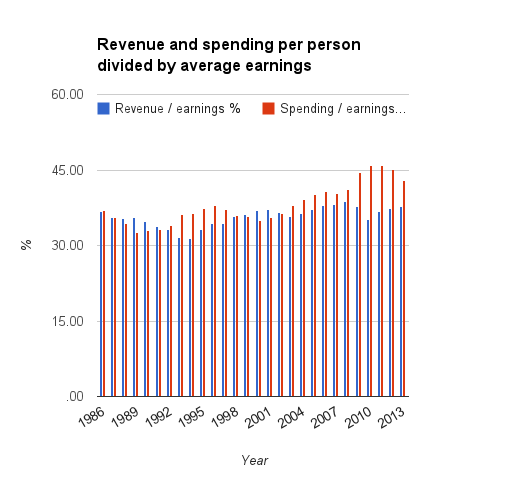 The graph ends in 2013 because I have no estimates for average earnings. There has been a slight decrease in spending by this measure in 2012 and 2013, but no return to conditions before the step change in 2008.
In short, there is a lot of talk about not a lot of action. I have a suspicion that small cuts have been made to the wages of particularly vocal and popular public servants in order to make austerity seem like a bigger deal than it is while keeping powerful public servants in the manner to which they have become accustomed.
You can see bigger graphs and my working out in my spreadsheet.
Edit: I had mis-labelled the y axis on the first graph; it shows revenue and spending per person in Pounds. I have fixed the labels now.