Often, when walking near Old Kent Road close to my home in Southwark, I have seen this peculiar sight.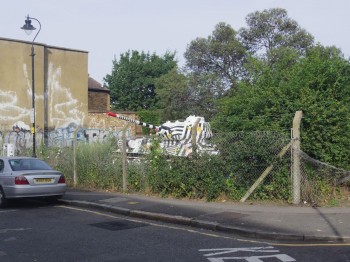 Yes, it appears to be a tank. London is London though. Our glorious city contains a lot of weird shit. Is it a war memorial? I doubt it. Is it a decoration in a public park? Again, I doubt it. The land is overgrown and is fenced off, although the fence has long ceased to be effective. Is it an art project? Possibly. Certainly the paint and graffiti on the tank changes from time to time, but as to whether this is planned or simply something done by the nearby and bored, once again who knows? As to what type of tank it is, my knowledge of military hardware is sadly lacking.
Half the Samizdata commentariat (and certainly this blog's glorious leader) is no doubt jumping up and down and saying "It's a T-34, you idiot". As it happens, I discovered this when looking at Google Maps yesterday. The tank is in fact shown on the map, at the intersection of Mandela Way and Page's Walk in London SE1. (Places in the UK that were ruled by Labour local governments in the 1980s are full of streets, council buildings, and lord knows what else named after Nelson Mandela, as this was considered a good way to annoy Margaret Thatcher).
Curiouser and curiouser. A T-34 is a Soviet tank. What the hell is it doing on an overgrown piece of land in Southwark? Thankfully we have the internet, which tells us one of those stories that is probably not entirely true but should be. Reputedly a man named Russell Gray, the owner of the now overgrown block of land, wanted to build a house on it. This seems perfectly reasonable to me. Although the block is fairly small and a peculiar shape, it is certainly big enough for a small house. As the location is no more than a 15 minute commute to the financial jobs in the City of London, any house there would be of considerable value. However, when Mr Gray applied to Southwark Council for planning permission, it was denied. In frustration he submitted another planning application requesting permission to put a tank on the site. This was granted. He then obtained a surplus Soviet T-34 and this has been on the site ever since. Apparently the turret was originally pointed in the precise direction of of Southwark Council's offices and the tank was given the nickname "Stompie" after an ANC activist murdered by thugs loyal to Winnie Mandela after they suspected him of being an informer to the apartheid South African government in 1988.
Where does one obtain a surplus Soviet T-34, exactly? It was imported from Czechoslovakia as a prop in the 1995 film of Shakespeare's Richard III, starring Ian McKellan and a large ensemble of Britain's other finest actors. Prior to that it may or may not have been used by the Soviets in putting down the Prague Spring in 1968. In any event, Mr Gray was able to buy it cheaply after the film-makers had finished with it.
Er, come again? Didn't Richard III die in 1485 before spending the next five hundred years beneath a car-park in Leicester? Were there a lot of T-34s involved in the Wars of the Roses?
Ah, this version was set in a fictionalised 1930s England. Soviet tanks that did not go into production until the 1940s were apparently a better fit in that world.
As I said, London contains some weird shit. I can't imagine living anywhere else.