Why be libertarian? It may sound glib, but a reasonable response is, Why not? Just as the burden of proof is on the one who accuses another of a crime, not on the one accused, the burden of proof is on the one who would deny liberty to another person, not the one who would exercise liberty. Someone who wishes to sing a song or bake a cake should not have to begin by begging permission from all the others in the world to be allowed to sing or bake. Nor should she or he have to rebut all possible reasons against singing or baking. If she is to be forbidden from singing or baking, the one who seeks to forbid should offer a good reason why she should not be allowed to do so. The burden of proof is on the forbidder. And it may be a burden that could be met, if, for example, the singing were to be so loud it would make it impossible for others to sleep or the baking would generate so many sparks it would burn down the homes of the neighbors. Those would be good reasons for forbidding the singing or the baking. The presumption, however, is for liberty, and not for the exercise of power to restrict liberty.
A libertarian is someone who believes in the presumption of liberty. And with that simple presumption, when realized in practice, comes a world in which different people can realize their own forms of happiness in their own ways, in which people can trade freely to mutual advantage, and disagreements are resolved with words, and not with clubs. It would not be a perfect world, but would be a world worth fighting for.
– The concluding paragraphs of Why Be Libertarian? by Tom G. Palmer, which is the opening essay in Why Liberty? edited by Palmer for the Atlas Foundation.
Here's a picture of Palmer waving a copy of Why Liberty? during the speech he gave to LLFF14 at University College London last weekend: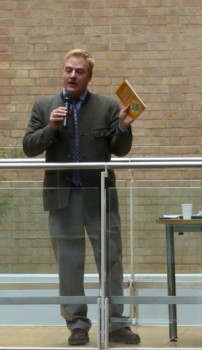 Free copies of Why Liberty? were available to all who attended.