Here is part of slide number one of Christopher Snowdon's talk at LLFF14 yesterday afternoon, entitled "How the state finances the opponents of freedom in civil society":

That is from The Virginia Act for Establishing Religious Freedom, first penned, it would seem, in 1779, and actually passed in 1786.
Christopher Snowdon is described here as the "Director of Lifestyle Economics at the IEA", which means he is their chief complainer about sin taxes.
His talk yesterday was based on the work he did writing two IEA publications, Sock Puppets: How the government lobbies itself and why and Euro Puppets: The European Commission's remaking of civil society. Both those publications can be downloaded in .pdf form, free of charge.
Snowdon walked around a lot when talking, so although I took a lot of photos of him, only this one was any good: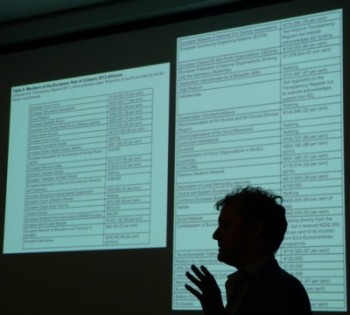 Behind Snowdon is a long list of NGO's which receive substantial funding from the EU. For legible versions, see Euro Puppets.
In the short run, all this money paying for leftist apparatchiks to lobby for more money for more leftist apparatchiks is good for leftism, but I wonder if in the longer run it won't be a disaster for them. Another quote, about how all causes eventually degenerate into rackets, springs to mind. This is the kind of behaviour that even disgusts many natural supporters of leftism. As Snowden recounted, few people outside this incestuous world have any idea of the scale of this kind of government funding for "charities", never mind knowing the extra bit about how the money is mostly used to yell and lobby for more money, and for more government spending and government control of whatever it is. In particular, Snowden recounted that when John Humphrys interviewed Snowden on the Today Programme, he (Humphrys) did not grill him (Snowden), he (Humphrys) mostly just expressed utter amazement at the sheer scale of government funding for "charities", for anything.
What this means is that if and when a non-leftist politician gets around to just defunding the lot of them, just like that, he gets a win-win. He cuts public spending, even if only a bit. And he slings a bunch of parasites out into the street where they belong, who are then simply unable to argue to the public that they were doing anything of the slightest value to that public. Insofar as they do argue that they shouldn't have been sacked, they do not further their own cause; they merely discredit it further and further prove that the decision to sack them was the right one.