One of the saddest recent facts about the world, and especially the twentieth century world is that the Devil has tended to have the best tunes, the best pictures and the best public sculpture.
By the middle of the twentieth century, World War 2 having been at least partly won by some of the Good Guys, many officially encouraged Artists in the rich West had come to associate all tunefulness and all pictorial or sculptural communicativeness with evil, and to shun artistic communicativeness on purpose. Is this picture telling a story? Does that symphony have lots of tunes? Is this sculpture of something or of someone, and does it speak to the best in us? To hell with that, said many of the more serious and educated sorts of Artists, because such glories reminded them that Artistic glory had just been and was typically then still being used, by Hitler and by Stalin and by their numerous imitators around the globe, to glorify wickedness.
Meanwhile, the horribly numerous and influential supporters within the better bits of the world of the still persisting and Communistic sort of evil went out of their way to encourage these mostly dismal and arid Artistic tendencies, in order to make the best bits of the world seem far more uninspiring than they really were, and hence ripe for conquest by the Communistically evil bits. Artistic glory continued, well into the late twentieth century, when the very worst of the twentieth century's greatest horrors were politically and economically in retreat, to glorify the dreary and still decidedly evil aftermath of the horrors, in the USSR and in all the places it continued to subjugate or influence, such as in China and nearby despotisms. The rule was, still, that the better the mid-to-late twentieth century place was and the more it was contributing, despite all its corruptions and blunders and disappointments, to the ongoing advance of humanity out of mass poverty and into mass comfort and even mass affluence, the duller and more uninspiring its officially sponsored Art was.
Thank heavens for the less official, small-a art, like advertising and the more commercialised parts of cinema and television, and like pop music. Above all, thank heavens for rock and roll. If Official Art refused to celebrate the escape, in the rich countries, of the poor masses from their poverty, then the enriched paupers would buy electric guitars, form ten million pop groups and celebrate their newly emancipated lives for themselves. The rock-and-rollers didn't "build this city on rock and roll". The city was already built. But by God they cheered it up. And this despite all the efforts of Official Art people to make rock and roll dismal too.
These thoughts were provoked by me recently having been steered towards pictures of this, I think, rather splendid piece of public sculpture on a hill in Africa, just outside Dakar, Senegal: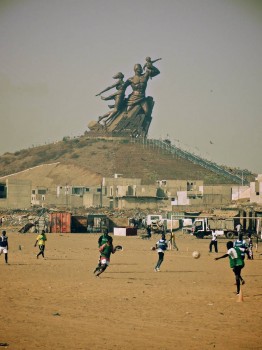 This gigantic and inspiring celebration of human progress and traditional family values was erected by the sculptural propaganda arm of the abominable state of North Korea, that classic after-echo-of-horror relic that still now staggers on into the twenty first century.
To the exact degree that Africa is now starting seriously to shun the follies of North Korean style murder-suicide-statist political-economic policies, Africa is indeed now starting to make some serious economic progress, thanks to things like free trade, mass literacy and mobile phones. Well fed African go-getters with adoring wives and happily well fed babies are now multiplying across the continent, busily exploiting the potential of such things as mobile phones to stir up affluence, for others as well as for themselves, perhaps some of them even inspired in their capitalistic endeavours by sculptures like the one above.
I personally believe that the famously colourful and inspiring Chinese posters that were among the very few pleasing things created during the otherwise wholly dreadful and destructive Mao-Tse-Tung era in China may have had a similarly inspiring impact upon China's subsequent generation of capitalistic go-getters. Communists had a minus quantity of knowledge about how to create the good life, but they at least had a clue about what the good life looked like and felt like, and got other and less crazed persons thinking about how actually to contrive it.
Meanwhile, public sculpture in the old rich parts of the world has, for some time now, been on the up and up, or so I think. It may not be gloriously inspiring, but at least it has started to be – has for some time actually been, I think, some of it – fun, at least quite often. Official Art still can't quite bring itself to be as brashly optimistic about humanity and its future as those North Koreans, but at least the baleful representation-equals-Hitler-and-Stalin equation is sinking into the cultural history books. Good riddance.
Personally, and in company with many other people who are not usually very attracted by or admiring of contemporary Art, I particularly like the works of Antony Gormley. There was recently a show about Gormley on BBC4 TV, which illustrated only too vividly that Gormley emits the same drone of vacuous and pretentious Art-Speak nonsense that most other Artists seem to. The contrast between the educated verbal gropings that Gormley talked on TV last night with the down-to-earth clarity achieved by the comic book artist Frank Quitely, who starred in an earlier BBC4 show in the same series, was extreme (see my remarks above about the redemptively inspirational contribution of popular art to Art). But ever since Gormley stumbled into popular acclaim with his Angel of the North, which proved a whole lot more inspiring to the wider public than he probably thought it would, he has specialised in doing public sculpture that is of something (typically his own very average naked body but never mind), and which many people, me included, often enjoy looking at. His actual work is, I think, as often as not, brilliantly eloquent, and he is now finding it easier to do it, what with the new technology of 3D computer scanning and visualisation and 3D printing. Gormley's actual Art makes me want to say, not so much that his spoken words are silly (even his sculpture titles tend to be Art-Speak meaninglessness), but that words are just not Gormley's thing.
I still remember fondly the time in London, in the summer of 2007, when the dreary concrete of London's South Bank Arts district and nearby parts was invaded by a small army of naked metallic Gormleys. The many identical Gormleys were not, in themselves, especially inspiring. But look on the bright side. Nor were these Gormleys bent-out-of-shape semi-abstract grotesques, mid-twentieth-century style. And although in themselves ordinary, the Gormleys were often standing in very interesting and inspirational places, high above the streets, up on the roofs of tall buildings: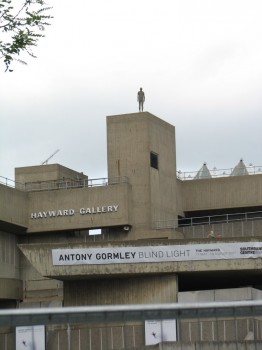 Stick anyone on a pedestal – in general, look up at them – and they look more impressive. They look like they deserve to be looked up to. This positioning of all those South Bank Gormleys suggested (yes yes, to me – I admit that all this is very personal) ordinary men at least looking, very admirably, towards less ordinary and more inspiring far horizons. Some of the Gormleys were looking downwards, but most were looking out ahead. What all these Gormleys were not doing was just standing in Art galleries, staring miserably at their own feet, with signs next to them full of demoralising Art-Speak drivel. They raised the spirits of almost all of those who gazed up at them. Only those Art People who hated what a popular hit the Gormleys were and who still want Art to just moan about the horrors of capitalist consumerism, instead of actually making a positive contribution to this excellent trend in human affairs, were seriously offended by all these Gormleys, which for me is of course just another reason to love them and to treasure the memory of them. I and most other Londoners and visitors to London who saw them regretted only the moment when they migrated elsewhere.
If and when the ghastly government of North Korea is overtaken by the collapse that in a wholly just world would immediately engulf it, I wonder what will happen to these North Korean sculptors. I now like to conjecture that, despite all the barbarism that they now go through the motions of glorifying, they might yet have some kind of civilised future, glorifying people and things that truly deserve to be glorified.