Sam Bowman's talk tomorrow at the Rose and Crown has been causing worries for Libertarian Home organiser Simon Gibbs, on account of Meetup not working properly. Simon has become unsure about how many people are going to show up, but urges us all to come anyway. (I definitely intend to.) He ends his report on all this by saying that …:
… the capacity issue sometimes looks tricky on paper, but it rarely is.
My experience, with my last Friday of the month meetings, which take place in a living room which is only about half the size of the room upstairs at the Rose and Crown, is that it is almost mystical how exactly the number of attenders seems always to suit the space available for them. It's a kind of benign spacial variant of the original Parkinson's Law. Last Friday, for instance, Dominic Frisby looked like he might be stretching my infrastructure beyond its limits. But then I emailed people to that effect, and there was a bug going round, and the weather turned nasty, the upshot of all that was that the number who showed was just right to fill the room in comfort, and just not enough to cause any discomfort. Amazing.
It's like we really do not need to be planned or coerced by a central authority, but can just sort things out for ourselves.
Mine was a fairly Bitcoin-savvy gathering, and several of the Bitcoin-savants present have said that they were surprised at how much more they learned, both from Frisby and from each other. I was not one of those experts; I was merely there. For me, the main message I took away from the evening was that Bitcoin, in the opinion of many people, does have real value, because it makes electronic economic transactions far easier. Although some doubts were expressed, nobody present dismissed Bitcoin as a complete fraud and a bubble waiting to just burst and vanish. In general the mood about Bitcoin was very positive, more so than I had expected, and of course even better about the general principle of encrypted currencies generally.
The big news item was that Frisby reckons he has cracked the identity of the founding genius of Bitcoin, a mysterious figure who is currently only known by a Japanese alias. Who is he? Read my Bitcoin book, said Frisby. This will be available some time around late spring or early summer, and I will keep Samizdata posted.
The other thing I will remember about last Friday was that, for complicated reasons involving an NHS kidney operation that suddenly became available (after a huge wait) to his usual back-up canine custodian, Frisby asked if he could bring his dog with him. You don't want mere attenders bringing dogs. But since the speaker would be the main victim if a dog attended and spoke out of turn, I figured that Frisby's dog almost certainly would behave exactly as well as promised, and so it proved. Frodo, despite being rather obviously hungry and eager to make friends with potential food providers, behaved impeccably throughout the entire evening. Not a single bark, not one. Again: amazing.
Picture of Frisby and Frodo: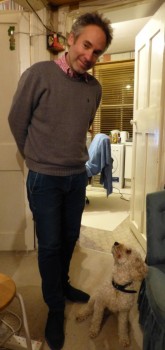 Sam Bowman's talk tomorrow will be about the idea of a legally fixed minimum wage. The libertarian orthodoxy is that, just as we don't want or need the government to be organising our social lives or our healthcare, a government-ordained minimum wage is a really bad idea. When I met Sam earlier in the week, this orthodoxy is what he told me he would be reinforcing in his talk, citing some recent evidence.
We also discussed the idea of Sam addressing one of my last Friday of the month meetings later in the year, on the far more contentious subject of "Bleeding Heart Libertarianism". He is, or such is my understanding, and no doubt with various reservations and qualifications, for it. I am not now totally against Bleeding Heart Libertarianism but am strongly inclined that way. I am far less inclined to leave the definition of Bleeding Heart Libertarianism as the sole property of those now calling themselves its supporters. I also have a very high opinion of Sam Bowman. That should be another good gathering, as and when it happens.