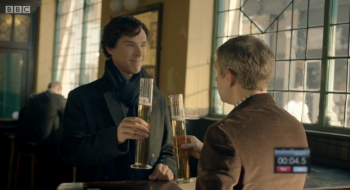 I have also just watched the latest Sherlock. If you live in the UK, the chances that you watched it as it was first broadcast are approximately one in seven. Despite the fact that this is a simultaneous British television watching event of the first order, the percentage of people who watched it is less than half what it was for peak television events of the 1960s to 1980s. That said, I want a set of those beer glasses. Oh Lord, I want a set of those beer glasses.
If you don't live in the UK, torrents are appearing right now and you will be able to watch it shortly. If you live in China, you are able to watch it on the legal Youku Tudou streaming service right now. If you want to watch it legally in most other places, you will have to wait a few days to a few weeks. I suspect, though, that most of the people who really want to talk about it will have watched it by this time tomorrow. Versions with strange, semi-accurate hacked on subtitles will be out there any moment now. Then they will talk, and talk, and talk, in various languages and through various translation tools.
Things weren't always thus. I am a middle aged expatriate Antipodean fogey. Watching film and television while growing up in Australia in the 1970s and 1980s in Australia was a strange thing.  Inevitably, most of the movies we watched came from America, and most of the television we watched in Australia came from America. In America, television seasons start in October, run through the winter months, and then end in about April. The biggest blockbuster movies are released between May and July. In Australia, though, the summer movie season started on December 26, and the television season went from February to September. This means that movies that had been hits in the American summer would often be held over for more than six months, and television seasons that had started in October in the US would not commence showing in Australia until February of the following year.
Even by 1982 this had become tiresome with movies. I remember reading about a movie called "E.T." that was supposed to be wonderful, and waiting endlessly. (I found it vaguely disappointing. Some of this might have been the wait). Even the existence of VHS was enough to break this down. By the 1990s, Hollywood had found that it was best to open movies as close as possible to simultaneously around the world as possible, both for reasons of piracy prevention, and because of the simple fact that publicity campaigns and other buzz could not be stopped from crossing borders.
Television was a little more odd, though. For one thing, there was less realisation that there was a problem. Television had certain peculiarities – for instance Christmas episodes of foreign series always aired in May – but this was no more peculiar than eating an enormous Christmas dinner of ham and turkey in 40 degree heat, or watching live major sporting events on TV in the middle of the night, as Australian sports fans are known to do on a weekly basis. In any event, local print media – mostly owned by the same companies that owned the television stations – would play ball, and there would be no discussion of new episodes of television series until the television series aired locally.
But of course, modernity (by which I mean the internet) eventually happened. It became trivially easy to watch any programme almost as soon as it was aired. Those people who wanted to talk about television with other people on the internet (in Australia and elsewhere)  found it imperative to watch at the same time, and they did.  And they do. (Okay, I admit it. And we did. And we do). Piracy of music and of first run movies seems to have declined, because the legal options for listening and watching at the same time everywhere are now pretty good.  Piracy of programming from regular series television seems to have gone way up, though. Television networks around the world are getting closer to airing things on the same day, but they are still probably not good enough for people who want to watch the next day, without spoilers. (In Australia, the same old television networks are still rather tilting at windmills to stop piracy, even with the help of a US Ambassador who believes an important part of his job is to discourage Game of Thrones piracy). National television moments have declined, however it feels when watching Sherlock in the UK. Global television moments have grown spectacularly. The industry is yet to catch up by giving global audiences legal ways to achieve these moments.
Except that in China, piracy is feared to such an extent that the purveyors of legal streaming have actually chosen to give viewers what they want when they want.  The rest of the world may follow soon. I hope so.
Also, with Sherlock being such a big hit in the manufacturing capital of the world, I will hopefully be able to order the beer glasses on ebay any moment now.