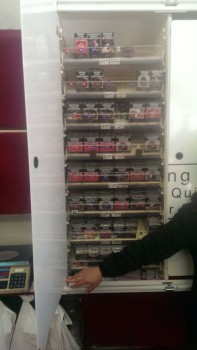 In August, I spent some time in my native land of Australia visiting family and friends. One Sunday morning I found myself wandering around the inner west of Sydney. I used to live in the area. If certain things in my life had gone slightly differently, I might still live in the area.
That's life, though. I don't regret moving to London in 2002. For one thing, if I had not done so, I might not now be writing for this blog.
In any event, I was thirsty. I nipped into a convenience store to buy a Coke. Anyone who has ever lived in a city will know the type of store. A selection groceries for people who have not managed to get to the supermarket. Drinks. Snack foods. Possibly a few pots and pans and other household goods. Cigarettes. In cities full of immigrants such as London and Sydney, these stores are normally owned and run by first generation immigrants. In the UK, this often means south Asians. In Australia, the owners of such shops are more often Chinese people, in some sense. (Often this can mean ethnically Chinese immigrants from Malaysia, Vietnam, or various other places).
People reading carefully may thing I am being careless in leaving alcoholic drinks and newspapers out of the list of things that such stores sell. After all, in London these things would make up a large portion of the business of such a store. Surely this is the same in Australia?
Well, no, actually.  Australian convenience stores do have vast amounts of shelf space devoted to sunscreen and insect repellant, but this hardly makes up for it.
Australia loves to regulate to protect vested interests. Laws vary according to state, but in Sydney an area will have a single newsagent, which will have a monopoly over the sale of newspapers in that area. This newsagent will be free to sub-licence other stores in the area to sell newspapers, but this normally only happens for Sunday papers, as the owner of the local monopoly will (or at least might) take the day off. In theory, the holder of the newsagent monopoly guarantees that he will provide local delivery of newspapers in the morning in return for being granted this monopoly. This may have once made sense, although I doubt it. Now though, most people who read newspapers at home do so over the internet. The monopoly remains, though. It's about vested interests being protected from competition. This means, amongst other things, that convenience stores run by recent immigrants are not going to be allowed to sell newspapers.
Similarly, the sale of alcoholic drinks for consumption off the premises will be subject to (wait for it) a local monopoly. In order for a store to be allowed to sell alcoholic drinks, its owner must petition the government for a licence, and in this petition he must "demonstrate that there is a need" for him to be granted such a licence. The idea that it might be good for customers to have more choice, or that competition on price might be a good thing is not considered to constitute such a need, generally. In regions where there are existing outlets selling alcohol, new licences are almost always denied. (In any event, the prospect of cheaper alcohol will lead to scare campaigns and proposals for minimum prices and the like. This is great for keeping new entrants out). The prospect of an existing business suffering due to competition is considered a valid reason to deny a licence. (Yes, really). This means, amongst other things, that convenience stores run by recent immigrants are not going to be allowed to sell alcohol. It also ensures that existing businesses that have a licence to sell alcohol can be sold for sometimes hundreds of thousands of dollars. It's rather like buying and selling New York taxi plates, or indeed Sydney taxi plates, which sell in such a way as the ones in New York.
Convenience stores are allowed to sell cigarettes, though, aren't they? Actually, yes.
"Catch 22?" enquired Yossarian.
"Of Course" replied Colonel Cathcart.
As of December 1, 2012, Australia introduced a "Plain packaging" law for cigarettes. As of that date, cigarette packets in Australia were not allowed any kind of branding. Cigarette packets were allowed to carry the name of the brand in a plain font, and that was all. Australia was the first country in the world to introduce such a law. This was applauded by the World Health Organisation, which had been endorsing such moves for some time.
Actually, plain packaging was a misnomer. Packaging is not plain, but entirely with health warning. In practice, this seems to mean that most of the cigarette packet is covered with pictures of diseased bodily organs removed from cadavers of people who died due to smoking related diseases. Interestingly enough, this led let almost immediately to enterprising people selling stickers to cover the rather disgusting images. The Australian Medical Association (the local medieval medical doctors guild) immediately objected and demanded that such stickers be banned, but these were ruled not to be illegal, which is something I suppose.
Being the first country in the world to introduce such a law was rather typical of Australia. Australian bureaucrats attend meetings of international organisations, as do bureaucrats from lots of other places. Nanny state moves such as this are often discussed at such meetings. Australian bureaucrats are very enthusiastic about nanny state moves. Australian bureaucrats then go home. Australia being a rather isolated place, Australian bureaucrats then don't talk to other bureaucrats much other than at such meetings. (In a momentary defence of European institutions, I will say that bureaucrats in any one European country do at least talk constantly to bureaucrats in other European countries. This sometimes can lead their talking another out of doing particularly stupid things. Not always, but sometimes). Australian bureaucrats then introduce laws based on what was discussed at meetings of these international organisations, using the argument that they are merely complying with international practice. The argument that "If we do not do this, the rest of the world will laugh at our backwardness" is particularly effective, Australians being quite insecure about what the rest of the world thinks of them.
Thus Australia often manages to be amongst the first countries in the world to adopt particular nanny state actions. Sometimes the rest of the world follows. For instance, smoking in restaurants and bars was banned by the Australian state of New South Wales just before the Sydney Olympics. It was basically "All these foreigners who are coming here for the games will laugh at us if they discover we still allow smoking in bars and restaurants". Hence we got one of the first such smoking bans in the world. On that one, much of the rest of the world seems to have followed. On some others, not so much. For instance, Australian states have passed various laws making the wearing of helmets compulsory for bicyclists since the 1990s. The assumption then was that the rest of the world would follow. On the whole it hasn't.
However, plain packaging laws for cigarettes. Convenience stores in Sydney. I was buying a Coke.
As it happened, the person in front of me in the queue was buying cigarettes. A non-smoker myself, I had not seem any of these plain packages until then. (Australian penalties for littering are hefty). The shopkeeper opened a locked cupboard behind her. In this were all the cigarettes, in plain packaging (showing diseased bodily organs from dead people). She got a packet of cigarettes out of the cupboard, and sold them to the customer, for the equivalent of about £10. (Having the highest taxes on cigarettes in the world goes with having the first plain packaging in the world. Of course).
The law doesn't just require that cigarettes have plain packaging, but also that they are kept in a locked cupboard that can only opened when a customer wants to buy cigarettes. On the door of this cupboard is a health warning, but nothing else. I did not know this at the time, but I am a nosy photographer and blogger. I wanted a picture, and asked if I could take a photograph of the inside of the cupboard.
The shopkeeper was not especially pleased. She asked why I wanted a photograph. I said that I was a foreign tourist, and that the plain packaging policy in Australia was a novelty to me. She very grudgingly agreed. After I quickly took the one hasty photograph with the camera in my phone, she closed the cupboard with haste. I once again assured her that my motives were completely benign. I continued to get the impression that she really did not like it. I wished her a nice day.
It was only when I walked out of the shop that I realised why she had been so reluctant to let me take a photograph. I might have been some kind of inspector from the local council, or the Department of Health, or someone else with the power to fine her or even to shut down her business if she were not in compliance with the law. Undoubtedly the law is a splendid way in which jobsworth bureaucrats can bully honest people like this shopkeeper who are just trying to earn a living. I almost felt bad about it, before directing my feelings towards the people who more deserved them.