Regulars here will know my interest in the phenomenon of Custom Built Headquarters Syndrome.
So now, I can't help suspecting that maybe what Roger Kimball says, about the disaster that is Apple's latest version of something called iWork (says Kimball:
I've never seen a shoddier release. The fate of particular pieces of word processing and spreadsheet software may not much signify much in the world at large. But among the population of people who use and depend on it, there is grave unhappiness. Apple really messed up on this, and it is interesting if unedifying to ask what it portends about the giant company's future.
…), and this new Apple HQ building that now has the go-ahead: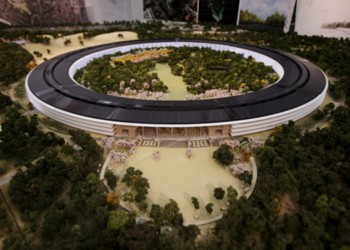 … are somehow connected.
It seems that Steve Jobs himself was responsible for setting this particular architectural wheel in motion.
Instapundit reckons Apple only did their shambolic software launch just now to make Obamacare look better, arf arf. But there is a more serious point to be made about this comparison. The difference between the public sector and the private sector is not that the private sector never screws up, as this Apple screw-up illustrates. And it is most certainly not that the public sector never builds itself dysfunctionally lavish buildings. The difference is that as and when the private sector screws up, it suffers. Money is lost. In this case, Apple market share is being lost even as I blog this. Apple will either sort this iWork mess out quick, or watch a lot of people move over to Microsoft.
If a custom built headquarters causes a private sector screw-up, as I surmise may just have happened to Apple, the building may then get sold on to other more capable people, or be partly rented out, to cut costs.
When the government screws up, taxpayers will foot the bill both for the screw-up and for all the money they then throw at it to unscrew the screw-up, and as likely as not the people who presided over the screw-up will end up with even bigger buildings to luxuriate in.
To escape Obamacare, your only hope is kayak.com. I watched the whole of that Saturday Night Live skit last night on Youtube, but now, Youtube refuses to play it to me, what with me not living in the USA. But trust me, it's very funny. Will the BBC ever show it, I wonder?