Which is better? A technically superb photo of something you've seen many times before, like a wonderful still life oil painting? Or, a technically very average photo of something remarkable, that you never thought you'd live to see?
If you are in the mood for the second sort of photo, and you are someone who likes the kind of ideas that Samizdata seeks to spread, you should definitely take a look at this: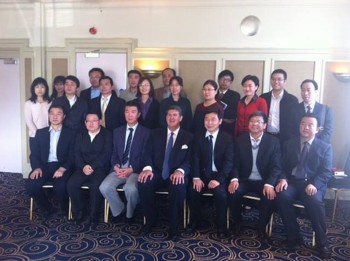 This is a group of Chinese people to whom Tim Evans of the Cobden Centre, seated proudly in their midst, was speaking, on Friday September 20th, about … Austrian Economics. And yes that is people from China China, not from some already strongly capitalistic outlying fragment of China.
My thanks to Simon Gibbs of Libertarian Home for telling me about this. Gibbs writes:
Tim Evans of the Austrianist Cobden Centre shared this image on Facebook. It is unclear who is visiting who but he is depicted front and centre with a delegation of Chinese officials as if he was an honoured guest or leader. Tim has been training the group in the details of Austrianism. The group worked with the Chinese State Council and the Central Committee of the Chinese Communist Party.
Of this exercise, Tim Evans writes:
Spent a great day on Friday lecturing key academic and economic advisers to the Chinese State Council and the Central Committee of the Chinese Communist Party. I regularly work with senior Chinese officials and find many of them to be increasingly well versed in the ideas of the Austrian School of Economics.
Austrian Economics is very persuasive to a certain sort of economically curious person, because it is basically a statement of how things are. It describes a world of realities which are true whether you care about or accept their truth or not. This stuff is true no matter what else you choose merely to believe. You can, in principle, understand that Austrian Economics describes how the world is, yet still believe that the world ought to be a centralised despotism or a socialist nirvana, or maybe even some combination of the two.
But, it is rather difficult to stick with such beliefs on a permanent basis. Once you accept the truths that Austrian Economics tells you, it is difficult not to find yourself believing that the world ought to be different from the tyrannical way that a lot of it still is.