Next time I meet up with Patrick Crozier, I will be giving him a present.
I hope that the next time we meet will be if he drops by at my place tomorrow evening. Then, Richard Carey will be giving a talk about "The English Radicals: 1640-1660", but I believe that work commitments may prevent Patrick from being at that.
Richard Carey will be talking about:
The use and abuse of history; the period 1640-1660 as a crucible of political philosophy; Libertarianism and Republicanism and their respective myths; Those great heroes to all honest Englishmen, the libellously-labelled "Levellers", what they stood for, their impact and influence on the development of politics in this country and America, likewise the Republicans.
As always with these talks, I expect to learn a lot. To find out more about them, click where it says "Contact" here.
The present for Patrick Crozier is this: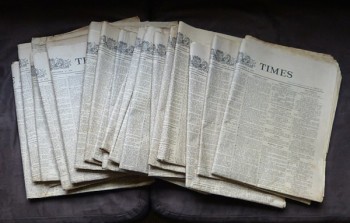 That's twenty one ancient copies of The Times. I saw a great stash of these in a local charity shop, and, knowing Patrick's interest in the past of this newspaper, especially when world wars are involved, I purchased one, dated May 24th 1940. I asked Patrick if he'd like this copy, and more. He expressed enthusiasm. So, yesterday I went back and bought all the rest. Originally these copies were sold for 2d. These same copies each cost me exactly as much as a copy of The Times would now cost, £1. Someone else had also had a go at the pile by then, but there were plenty left. The dates of the copies I now have are: 1939 – October 2; November 18, 20, 22, 24, 25, 27, 29; December 5, 13, 15, 19, 27; 1940 – March 27, 28; April 4, 6, 13, 17; May 24, 30.
Giving gifts to one's friends these days is hard. Stuff worth having tends not to cost nearly as much as it used to. If a friend wants, say, some spoons, he just buys some spoons, of exactly the sort he wants. Why give him other spoons of the wrong sort? Besides which, the gift most of us would really like would not be more crap, but more space to accommodate all the crap we already have. So, when the chance occurs to give a friend a gift that they really might like, costing about the right amount in money or bother, it makes sense to grab that chance.
LATER: I've just discovered that what I thought was December 27th 1939 was actually September 27th 1938. Before WW2 began, in other words, which will please Patrick. There's a big Hitler speech about Czechoslovakia.