My last Friday of the month meetings are now under way again, and they are accomplishing everything I here hoped they would. Worthwhile thoughts are being thought. I am making new friends. I am also reconnecting with friends from way back, which is a bonus I should have seen coming but did not. The most recent meeting was especially fine. About it I will surely be saying more, by and by.
Meanwhile, however, I continue making my small living room into the best place that it can be for these evenings. What I need next is one of these: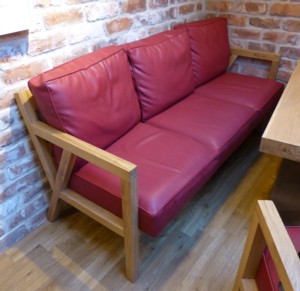 I came across that in a Pret a Manger (it seems they allow you to forget about accents) near Waterloo Station. The Wi-Fi there proved unsatisfactory for my purposes, but the above item of seating is exactly the sort of thing I now want.
It seats three in comfort, as do many sofas on sale these days. But it also has two other features which seem to be harder to come by.
First, unlike most the sofas I am now looking at, this one is not too deep from front to back. This comes partly from this sofa not also being a sofa-bed. I already have a sofa-bed. The last thing I need is another sofa-bed. A sofa(-bed) that sticks out too far into my small living room is no good to me. But many sofas that are not sofa-beds also stick out into the room far too much for my purposes. A sofa like the one above is what I need.
Second, the above sofa does not have wide and rather squishy arm rests. Instead it has narrow wooden ones. So just as it economises on depth space, it also makes the most of sideways space, space that I need every inch of for more seating.
Such wooden arm rests, in between meetings, can be easily used to rest a big plank on, which is helpful for when I am battling with paperwork, which I am, now and always. Also, during meetings, the wooden arms would be good for resting drinks on, in the way that big squishy arm rests are not.
Nevertheless, I would definitely consider something which is the same shape as the sofa in the picture, but without any arm rests at all. The important thing about this sofa is how well it uses space, compared the usual lumbering monster sofas that are to be seen in every furniture shop or furniture website in such abundance. Pret a Manger presumably have a problem not unlike mine, that made them want what I want. I want one sofa that helps me get as many people into my small living room as I can. They want as many sofas as possible, to get as many people as they can get into a larger space.
The sofa I seek doesn't have to be any particular colour, or in as good condition as the one above. Rather battered would probably be rather good, because cheaper. It just needs to be that particular sort of shape, or as near to it as I can find.
So, can any of my London friends, or for that matter anyone reading this and living in London, or, really, just anyone, help? All relevant information would be gratefully received. (Comment, or email me by going here and clicking where it says Contact, top left. (That needs to be a slightly complicated process, to deter spammers.))
In order to rescue this posting from being an unadulterated personal advert, let me adulterate it with a broader observation about modern life. Notice how much harder it would have been for me to get across what kind of sofa I am seeking, had I not been able, at zero additional cost to me, to include a photo in this posting of what I am looking for.
I have long been fascinated by the phenomenon of digital photographers. Indeed, I would say that digital photography in various forms (like surveillance cameras as well as cameras for taking holiday snaps) has been one of the defining features of everyday life in the last decade or more. In the previous century, similar things did just about exist, but they were vastly more clumsy and expensive than what he have now. By about 2030, these devices will in many cases surely have become unrecognisably different, just as twenty first century mobile phones differ from the big, expensive brick-phone of the 1980s. Snapping away at London's many tourist snappers, and snappers generally, has been a hobby of mine ever since I first became one of these digitalised snappers myself.
The big photography story of our time is not that the best of the pro photographers are now making pictures like this or like that, but rather the remarkable adequacy and frequent splendour of all the digital photos now being taken by such people as tourists, and the delightful and often downright balletic behaviour of those taking and posing for such photos. Some enterprising choreographer should do a ballet about digital photographers. Seriously.
However, what I want also to emphasise here is the impact of digital photography on trade. This was something I found myself mentioning in the course of writing this posting, about how I photoed some books in a nearby book store, but then actually bought the ones I bought on Amazon. Sneaky I know, but there you go, that's what I did.
Historians, looking back on our time, may decide that one of the main things that turned so many shops from places where you buy mere stuff to places where you buy an experience such as the experience you have in a place where Wi-Fi is included, in other words not really shops at all, was digital photography. Catalogues on paper, which have always been crammed with pictures, are all well and good, provided you can get hold of one with what you are looking for in it. Now everyone can quickly and easily consult all catalogues, and the whole world knows what an explosive alteration this is proving to be to the way buying and selling is done. But internet business is a lot more than old-school retailers selling their stuff in a new way. It used to be that only quite big organisations could afford photography to sell their stuff, and such stuff had to be either mass produced and new, or else just very expensive, if the photography costs were to be covered. Now, everyone can use photography to sell something, or in my case, in this posting, to go looking for something.
I surely don't need to convince you of the size or significance of this effect. If you have already thought about it, my apologies for belabouring the obvious. But maybe you haven't thought about this thing as a separate thing, so to speak. You've just assumed the presence of digital photography when browsing through stuff on the internet, rather than spent any time wondering how much harder this process would be if photography was as expensive and inconvenient as it used to be, before it got as cheap and convenient as it is now.