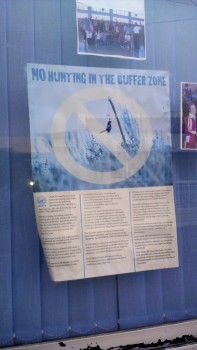 Perry has occasionally suggested the possibility of introducing a new category named "No shit, Sherlock", principally for quoting people who have, apparently after a long struggle, managed to figure out the blindingly obvious.
I think it might apply here too. In Cyprus, between the opposing armies of Turkey and Greek Cyprus, there is a buffer zone, monitored by the United Nations. This buffer zone is not as empty or as off limits as many other such zones in other parts of the world, but like many such zones it has become an involuntary nature reserve, full of wildlife.
There are also a small number of occupied towns in the zone. One of these is Pyla, which has the distinction of being the only town on the island of Cyprus in which citizens of Greek and Turkish ethnicity live side by side. This town contains both active mosques and active churches, pubs that serve Efes and different pubs that serve KEO. (Why is beer such a sectarian thing?) There is a significant UN presence in the town. Rather tiresomely, there are also lots of signs prohibiting photography of buildings occupied by the UN, but one still does one's best. Surreptitious photography does not always lead to the best results, alas.
On the side of the local UN police station is the above sign, which explains that hunting is prohibited. Apparently it is a bad idea to run around a neutral zone between two hostile and opposing armies wearing camouflage and firing weapons. Who would have thought it?
I confess that I have mixed feelings about the necessity for such signs. Sometimes people should be allowed to collect their richly deserved Darwin awards, if they are determined enough.