As noted in my previous posting last night, I went out photoing photoers last Sunday, and one of the more interesting photoers I photoed was this guy: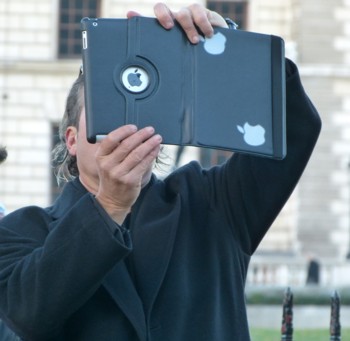 That's an iPad, being used as a camera. I mentioned this to Michael Jennings, and he told me that the first iPad didn't have a camera built in. The second one did, but it wasn't very good. Not designed for proper photoing, merely for video-conferencing. But people used it to take proper photos anyway, or they tried to. And on iPad number three, the camera is quite good. Not in the same league as a dedicated camera, but good enough for many, for taking tourist snaps in good daylight and for telling friends what they are seeing.
I know the feeling. If you are a techy, or if whatever you are doing just has to be really, really good, you use the best kit for each job that you are doing. But if you are a civilian, you just love the idea of one machine that does everything for you. There is just one pile of magic to master, just the one gadget to be faffing about with when you are on holiday. I have never used an iPad, but I entirely know why this guy is using his iPad to take photos, rather than a regular camera type camera.
I talked with him. So, using one of those things to take photos, eh? Yes, he said, and he eagerly showed me some of the photos he had just taken, of Westminster Abbey. They looked fine to me, although a regular CSI character could easily work out the man's identity from his reflected face in this: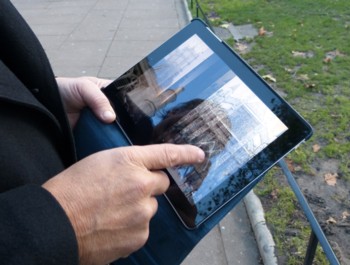 He's not the first iPad (or Tablet or whatever) photoer I have spotted in recent months, just the first who obliged with a good clear pose for me to photo, a pose which obligingly hid his face.
I have been photoing digital photoers for over a decade, and if there is a technological trend in evidence, it is that the range of cameras being used by digital photoers has slowly grown. First, there were the very first digital cameras, like my very first digital camera. Rather big, very expensive and rather clunky, but they worked! Meanwhile the Real Photographers were going digital, with even bigger and massively more expensive cameras, which looked, then as now, just like regular old cameras that used film, and which made use of the same even more expensive sets of interchangeable lenses. Then cameras started to emerge which were betwixt and between ("bridge" cameras) the little ones and the Real Photographer cameras, like my last two cameras, with their ever more amazing zooming abilities. I try to get cameras in focus whenever I can, and in my photos you can see the zoom numbers climbing as the years have gone by, the latest Canon "bridge" camera being 50x!
And while all that was happening, mobile phones were also getting good enough to use as cameras. Just like my iPad Man, Mobile Phoner relishes only having one machine to fret about, to do everything. Hence the ever increasing smartness of smartphones.
It all reminds me of how General Motors worked out, in the 1920s, that the idea of just one basic kind of car for everyone was silly. Instead GM offered a range of cars, to suit all tastes and pockets. But, there never was a Model T digital camera, available only in black, and the camera market is easier to enter, so there never was a General Cameras either. The range rule has prevailed with digital cameras from the start. It didn't have to be thought of, it just happened.
This range of cameras is reflected in my latest clutch of photoer photos, here (already linked to above). There is the Real Photographer (1.2), or at any rate the photographer using a Real Photographer camera, the guy with the reflecting sunglasses. There are the ever smaller and ever cheaper dedicated digital cameras, often decked out in bright colours (silver (2.3) and red (3.1) in these photos as well as just black). There is the guy using his smartphone (3.3) to take photos (of the man blowing bubbles on the South Bank). There is the 26x zoom camera (3.2). Even the little red camera (3.1) is 10x, as you can clearly read if you click on that one. Tellingly, there are cameras there where it is a bit hard to tell at a glance if they are single fixed-lens or multiple choice lens, bridge or Real.
There must also be another kind of camera being used, to add to all these others, which is the one that is so small and so unobtrusive that it cannot even be seen. These cameras are hidden in glasses, or in buttons, or in hats, or in jewellery. Time was when only the likes of James Bond had such devices, but now, I presume, anyone who wants such a camera can have one. I must have photoed many such cameras, but I will never know about it.
I salute these invisible cameras with particular fervour. They are Little Brother's answer to Big Brother's now ubiquitous and very visible surveillance cameras. These invisible cameras are the reason that They will find it so very hard to ban outdoor photography by civilians, however much They might like to and however hard They try, because They won't be able to see it happening and tell it to stop.