The internet has a standing order from me to send me any news stories it has about 3D printing, and I am beginning to get a feel for how this story is playing out. (Maybe, what do I know?, etc.)
My first guess was that 3D printers are something like laser printers, which would accordingly soon enter all our homes, but I now think that's wrong. 3D printing is not an enhancement of domesticity, or not yet. It is already, and has been for quite a few years, a technological development technique, and it is now morphing into a manufacturing technique, which is what most of the news stories are about. Here's this new thing they are making with 3D printing! Wow!
But it's "they" who are doing this. Only a minority of people reading or hearing these stories now want to get their hands on this kit themselves. If there is a parallel with personal computing, then 3D printing is still at the stage when mad techno-hippies were buying the first cheap (-ish) computers to play with in their dad's garages, and learning how to program them, circa 1977(?). The only – although it was one hell of an "only" – killer app there was for those first small computers in those early days was if you wanted to learn how a computer worked.
Consider the following news story, from the Daily Mail. It seems that someone somewhere has worked out how to "print" a new kind of bikini, out of 3D nylon. Many may be excited by this story, such as women seeking nicer bikinis, and men needing a techno-excuse for drooling over the female bodies involved in advertising the bikinis, but while there may be a small stampede to the bikini shop to buy such new garments, this story will surely not cause any stampede to techno-stores to buy bikini-printers.
I wrote everything else in this posting before reading this piece by Ryan Whitwam, but he says pretty much what I say here. The problem with 3D printing, from the domestication point of view, is that it does too much, with too many materials, in too many different ways. If there already existed a 3D printer which could "print" everything of a certain size – and I mean everything (jewellery, small batteries, personalised contact lenses, artificial fingernails, soup nodules, sweeties, fake sugar pills, medicinal drugs (of all kinds), diet enhancement pills (ditto), picture storage cards for phone-cameras (perhaps with the pictures already on them), and so on and so on – then it might make sense to have such a magic machine in one's home. But, unless I have been severely misunderstanding this technology, we are not anywhere near to all that yet, and if we ever do get there, then each person will probably only use his 3D printer for one or two apps, that he is familiar with and expert in producing, the way I use my computer to do only those things that I think I know how to do, like blog in the way that I blog, buy CDs off of Amazon, etc.. I don't use my computer to forecast the North Atlantic weather or to calculate Pi to three million decimal places, even though, in a sense, I could. I don't even use my computer to access the work of others in such realms, other than when I consult weather forecasts for London.
The people who want actively to do 3D printing, now, are the people who already make stuff of a particular sort, and want to make better stuff of that particular sort, or people who want to get a start in stuff-making. 3D printing is not putting manufacturers out of business; it is putting them into new businesses. (It may, in particular, be putting a whole generation of First World manufacturers back into business. Discuss.)
A monochrome laser printer, on the other hand, does just the one thing. It takes the same black gunk every time, and shoves it, in two dimensions, onto paper, not "bog standard" paper but you know what I mean. Regular paper type paper. It doesn't also print wallpaper, or bedsheets, or pancakes, or handkerchiefs or kaftans. It just shoves messages onto paper. Black on white. We almost all want that, and that's why we almost all now have that.
Even something as simple as colour printing is now a service offered by lots of shops, for lots of people who only occasionally want it.
Here is a final possible insight. It occurs to me that I do already possess something a lot like a 3D printing machine, namely the big blundering oaf of a gadget that I use to "print" ice cubes: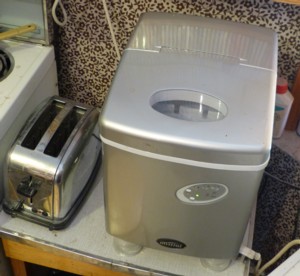 Okay they aren't cubes, they're like big stubby thimbles, but in a crude way this is a lot like 3D printing. I insert a nice simple, cheap raw material: water. I crank up the power, and a few minutes later, alerted by satisfying rattling noises, I get big stubby ice thimbles, in three dimensions. Invaluable during the recent hot-and-sweaty spell that the weather forecasters so correctly saw coming. Invaluable when you are entertaining. And invaluable given that fridges make too little ice that you mostly don't need and which fill the entire fridge with the wrong kind of ice, but then, when you really need ice, can't keep pace with demand.
Also, ice is hard to buy and hard to store, especially during hot weather (which is of course when you want it). What you want, when you want ice, is a gadget that cranks it out fast, and then stops when you stop it. You want an ice making machine. In your kitchen.
Ice cubes are not like contact lenses or finger nails. When you want them, you want a lot of them. This is, I surmise, why food printing figures in so many of the 3D printing stories I read. Food is something that regular people might soon want to "print", in their homes, in large quantities, again and again.
The reason I mention my 3D ice printer is that this is, already, a killer app. It does one vital thing, really (apart from being so ridiculously big) well.
And because it does just one thing really well, it is easy to operate. When I crank it up, I do not have to answer a lot of silly questions about what I want it to do. (Do I want contact lenses? No. Do I want fingernails? No. Do I want contraceptive pills? No. Do I want some ear-rings? No, I want effing ice thimbles, you effing moron machine. What's that you say? How cold do I want the ice thimbles? I want them cold enough but not too cold! You should know that.)
What I am saying is, maybe, that if "3D printing" does soon enter the home, it will be in the form of "better ice thimble machines" (e.g. making ice something elses of your choice) rather than in the form of all-purpose, generic 3D printers that try to do everything, but do it all (but actually nothing like all) very badly and expensively.
It does occur to me, though, that maybe finger nails are quite like ice cubes, if you are a teenage girl. Presumably there are 3D printers for these already.
I included my toaster in the picture of my ice thimble printer not just to show how big the ice thimble printer is, but because a toaster is also (stretching the definition still further) a specialised 3D printer, sort of, is it not? (Toast with pictures of Jesus on it, anyone?) Does it tell us something that both the (sort of) 3D printers that I already possess involve making things that are either very cold or very hot and which lose their value unless they stay that way? (Yes, because that makes the things they print out a lot harder to buy in a shop.)
I could continue rambling, but will now stop and let others ramble instead.