Early yesterday evening, taking advantage of a small window of nice weather in our mostly appalling British "summer", I took a stroll across the river. I ended up in the London Bridge area, where, just before descending into the Tube to go back home, I took this picture: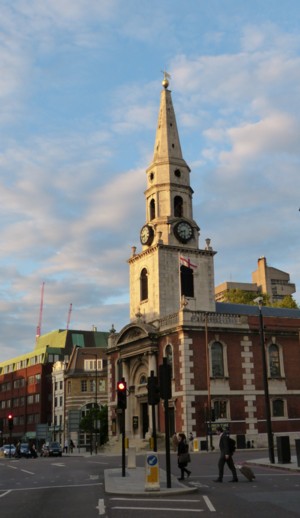 That is a church called Saint George the Martyr.
Now, you may think that this church is behaving itself, but actually, it is seriously interrupting the view of the recently completed Shard. To show you what I mean, here is another picture which I took seconds later: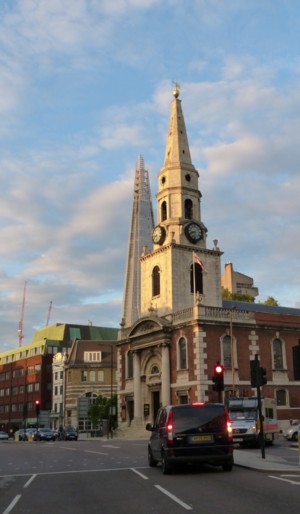 Now you see it, now you don't.
I'm just kidding (I had in mind sentiments like this) about the church being an eyesore. Saint George the Martyr looks very nice, and I find these two buildings particularly pleasing when they are thus aligned.
Earlier I had taken another picture of St George the Martyr and the Shard, but from further away. The church looks smaller, just as you would expect. But the Shard looks bigger the further away you get from it, because it becomes so much clearer that it actually is so very big, and so much bigger than everything else.

My more serious point is that the Shard, far from being an alien and intrusive presence, actually fits into big old London very well indeed, not least because it echoes some of London most characteristic and most loved architectural shapes. That's what I think, anyway.
Some declare themselves offended by the Shard, as has already been noted here. But for me, London without its recent crop of skyscrapers would be a less appealing and far duller place. Had the Shard only got as far as the pretend photo stage, but had it never actually materialised, I'd have been very sad. If lack of money had caused that, well, that happens, when boom turns to bust. But had the Shard been politically aborted because of its alleged aesthetic offensiveness, I would have been offended myself.