Things seem to be a bit quiet here this weekend, so here's a picture I took earlier this evening: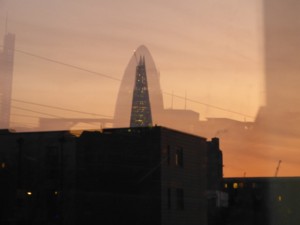 Click to get it bigger.
This is not Photoshopped. That's exactly what came out of my camera when I got home.
What it is is a picture of the Shard, taken by me from the front seat of a D(ocklands) L(ight) R(ailway) automated train, as the train approached its central London terminus, which is near to the Tower of London.
Taking photos through train windows is, as all photographers know, fraught with peril, because of all those stupid reflections in the glass of the window that you inevitably get, of such things as lights inside the train. But this time, what was reflected in the window was a tower on the other side of the train, namely the Gherkin. And since the train was going very slowly at the time, I was able to line the two towers up with each other.
Well, I like it.