You could live decades in Manhattan and still be surprised by what its vibrant capitalism throws up at you. Last weekend I got an invite to go along to a party that was raising money for some charity cause, although I was not one of the ones there to be a high roller. Let us just say I got in via the journalists back door since one of the celebrity guests was a Fox News personality who was also a friend of my usual Manhattan drinking buddy. It should come as no surprise to long time readers that when in New York I chill with journalists, spacers and the odd Irish musician.
I knew it was going to be interesting before I met up with Taylor Dinerman at the usual media waterhole, but on the some thirty block walk we were lost in discussions about typical fighter pilot behavior with the fair sex, space policy and which foot Paul Krugman is currently inserting. I was expecting something exceptional but when I finally walked over to the railing of the rooftop party I was not quite prepared for a night time view of New York like this. It is really different when you can see the city laid out in front of you in every direction and yet you are close enough to be struck by the full three dimensions. I can hardly imagine what waking up to this every day must be like, but I am glad to know there are people out there who do.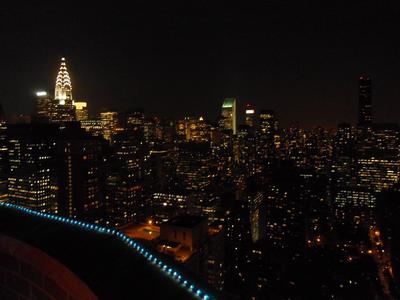 A Northerly view of the Chrysler building and surrounds.
Photo: copyright Dale Amon, All Rights Reserved
The party had the standard accoutrements. If you simply looked at the bar man serving drinks from a table by the core wall, or at the disk jockey in the corner, it would look like the standard parties we have all attended. The DJ laid down a modern sound track to insure all would eat, drink, be merry and network till they dropped. I was of course doing just that. I handed out Immortal Data Corporation business cards to all and sundry while keeping up my energy from the passing trays of hors d'oeuvres. I do not think I had a repeat taste all evening.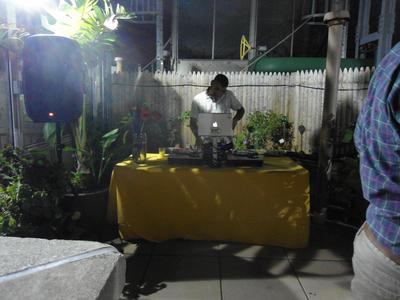 The disk jockey kept the place rocking, or whatever you call it with dance music.
Photo: copyright Dale Amon, All Rights Reserved
Being the spacer that I am, my actual first photograph of the night was the stunning image of a fall moon rising over the East River from a southeasterly direction. A mere photograph cannot come close to what the eye took in. Believe me, this poor small subset of photons does not come close to doing it justice.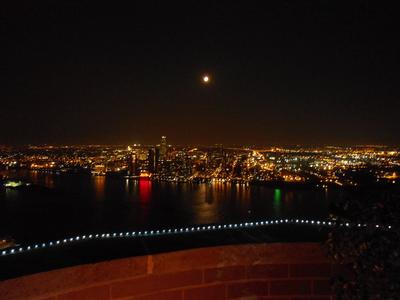 The view of the moon was even more amazing in person.
Photo: copyright Dale Amon, All Rights Reserved
Later on, after several drinks and much mixing I decided to temporarily break from the crowd, and that was when I discovered the flat was even more spectacular than I had thought. This is where Tony Stark would live if he owned a flat in Manhattan. No doubt about it.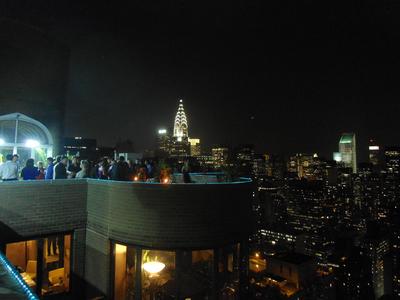 This is not one of Tony Stark's residences. But it should be.
Photo: copyright Dale Amon, All Rights Reserved
Taylor and I mostly talked with media folk, although there were lots of financial types there as well, with some of which we also spoke. I knew Taylor was fluent in French and Hebrew. Tonight I found him talking at length in German to a businessman and doing the occasional phrase in Mandarin. We were also joined by James Taranto of the Wall Street journal after he returned from a quiet far corner where he did a radio show call in to express his opinion of the latest Krugman piece at the New York Times.
One of the more fun people I spoke to was a woman who started her career as an NPR reporter assigned to Belfast. She was there in the seventies, well before my time, but we still had much common knowledge to share as she was a lover of Irish Traditional music and I think it fair to say that a few of my close friends in Ireland can play or sing a note or two of that genre.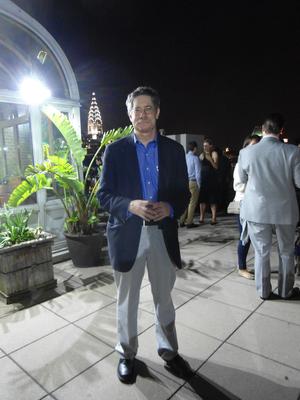 I was there with journalist and occasional Samidatista contributor Taylor Dinerman.
Photo: copyright Dale Amon, All Rights Reserved
It was a very international crowd, although it is sometimes hard to tell in New York. Someone who you think looks foreign may come out with a strong New York accent when they say hello… or they may speak with a strong accent from some odd corner of the world. You simply cannot tell.
Late in the evening Taylor and I were sipping our drinks and talking Chinese politics with a VP of Tang Dynasty TV, Mike Chen. He is very much the all American himself but is able to travel and mix in China and the three of us were off in a Samizdata like discussion of China's economy, ethnic strife problems, what happens when the North Korean penny drops, why China is building forces, what sort of aircraft India is buying and why…
I think it rather suitable that drinks in hand, we were looking down upon the United Nations Building from our high capitalist perch.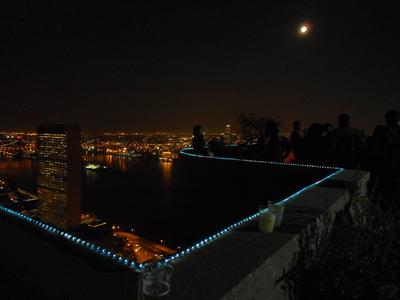 I have always looked down on the UN as an institution. But from here I really did look down on it.
Photo: copyright Dale Amon, All Rights Reserved
Oh, and we had a chance to talk with Rita Cosby, an old friend of Taylor's from Fox News, before he and I and James went off for our rather late dinner at McFadden's Bar.
Despite the Corona's, the wine, the rum and cokes, and the Johnny Walker I had already downed, or perhaps because of them, I decided after my dinner pint of Guinness that I could not let that poor pint feel lonely. So when they headed home, I headed further down Second Avenue to an old hangout of mine. The rest of the night (and pints) is another story and I was off duty as your Samizdata On The Scene reporter.
Slante!