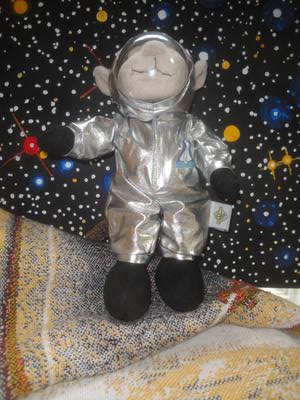 Bongo expresses joy at his NASA aided escape from Earth and the evil Petans.
Photo: copyright Dale Amon, All Rights Reserved
Backstory: The dinner speech by NASA Administrator General Bolden at our NSS conference in Chicago in May 2010 was briefly (about 10 seconds) interrupted by some little twit from PETA who was carried bodily to the ballroom door. We did not press charges. Her complaint? NASA was going to put some monkeys through the same things that people will be going through on a trip to Mars.
So, I am striking a blow to open the stars for all Primate-kind! Arise Primates of Earth! You have nothing to lose but 1G and your Petan chains!