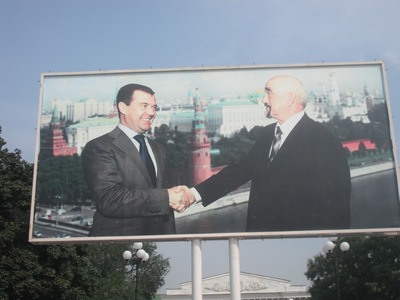 Dmitri Medvedev and Igor Smirnov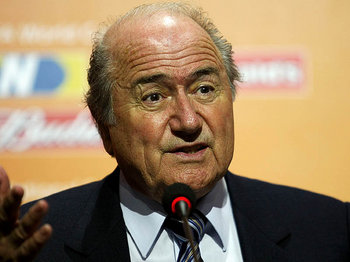 Sepp Blatter
The British tabloids are this week shocked (shocked) by revelations that FIFA, the international governing body of Association Football, appears to be deeply corrupt. The bizarre decision to give the hosting rights to the 2022 World Cup to Qatar (which has a tiny population of well under 2 million people, no football culture or traditions, no suitable stadiums, and a great deal of political uncertainty) has received particular criticism. Alternative bidders for that 2022 event included the United States, who have facilities in place such that one thinks they could hold the event next week if they wanted to, plus Japan, Korea, and Australia, all of which would require slightly more preparation but who could none the less hold the event without much fuss if they wanted to.
The fine Scottish journalist Andrew Jennings (no relation) has spent much of the last two decades attempting to publicise the corruption and deeply unsavoury connections of FIFA, UEFA, the International Olympic Committee, the motorsport body the FIA, and various other sporting organisations. He has found this to be a deeply thankless task. The trouble with sporting administrators everywhere is that they are allowed to play by different rules to everyone else. Typically, they are arrogant, venal, and often deeply stupid, but the glamour of their product is such that politicians, journalists, and various other people who should know better will flatter them, and will suck up to them in return for their favours. The articles and books and television programs of the aforementioned Jennings have contained very few things that have not ultimately turned out to be true, but in return for this he has been shunned by both the sporting world and much of the world of so called "respectable" sports journalism. Sports journalism is a strange thing. It is pretty much required to be biased, the journalists themselves are always very close to the people they cover, and the narrative that they write is not required to greatly resemble the truth, as long as the narrative is good.
I confess that the only thing I find interesting about the decision to give the 2022 World Cup to Qatar is the level of hubris involved. After holding the 2010 World Cup successfully (although in some ways expensively to FIFA's coffers) in South Africa, FIFA now seems to believe that they can hold the event anywhere. A host nation's lack of preparedness is possibly even an advantage. When preparations go wrong, FIFA can take over the running of the event, and provide expensive "consultants" that it pays for with its own money. If a lot of construction is required, this is good. Construction industries are often corrupt. The opportunities for graft and corruption are greater. The less prepared the host nation, the more of this can happen.
So Qatar appears to make perfect sense to me. Once you figure out that FIFA officials like to be heavily bribed while being treated like medieval feudal monarchs, and you then ask the question as to which potential host country is best at treating them this way, and you accept that the decision as to who would host the 2022 World Cup was made solely on this criteria, things become entirely uninteresting.
What is actually more troubling is the decision to give the 2018 World Cup to Russia. This decision has received less disdain in the English press in the last week (despite the fact that one of the countries that lost out to Russia was England) possibly due to the decision being not quite so obviously absurd as Qatar 2022. Russia is after all a large country. Russia does have a little of a football tradition – their national side is a second ranking European side that sometimes qualifies for big events and sometimes doesn't, and their clubs are good enough to be competitive in the UEFA Cup/Europa League (ie the second division of intra-European competition) without being quite good enough to be competitive in the Champions League (the genuine first division). And Russia is a big, somewhat belligerent country that is perceived to be powerful. Russian money already influences football further west – from Russian ownership of English club Chelsea, to a surprising number of shirts with "Gazprom" written on them in Germany and other clubs further East.
Once again though, from the point of view of what might have actually been the best bid, the decision to give the World Cup to Russia was absurd. Of the other bidders, both England and Spain/Portugal were in the category of bidders who could have probably hosted the tournament this time next week. Given the tournament to either of these bidders would have seen the tournament hosted by the most famous and storied stadiums in the footballing world, run by organisers who are used to hosting capacity crowds approximately once a week. The combined bid of Belgium/Netherlands was not quite as good, but was still much better. Russia on the other hand requires a lot of new stadiums in what is (despite the brash glamour of Moscow) a country with baroque bureaucracy and crumbling, second rate infrastructure. Moscow may appear flash, but visitors to some of the secondary venues may find them less so
At this point, I am going to digress to somewhere that may initially seem tangential and irrelevant. I hope my readers will forgive this for a moment. There is method in my madness.
Last August, I visited the Republic of Transnistria, which is a breakaway region of the Republic of Moldova. Moldova is principally Romanian speaking, but is an ethnically complicated place. (Romania is also an ethnically complicated place, but in not quite the same way). Approximately, during the second World War, the Soviet Union (disgustingly and immorally) annexed the easternmost portion of Romania, which it combined with a sliver of territory it already held east of the Dniester river to form the Moldavian Soviet Socialist Republic. As with most places in the USSR populated by non-Russians and particularly by non-Slavs, the Soviets attempted to settle Moldova with ethnic Russians. They had been at it in that eastern region over the Dniester for longer, so that portion of the Republic of Moldova was by the late 1980s pretty much exclusively Russian (not even Ukrainian). Moldova proper appears today to be ruled by a political elite of Romanian speakers mixed with a business elite of Russian speaking mafioso types.
In any event, upon the dissolution of the USSR at the end of 1991, and after a short but bloody war the Russian speaking region east of the Dniester river seceded from Moldova with the aid of the Russian army to become the Republic of Transnistria. The Russian Army is present in Transnistria to this day. The Russians like having an outpost this far West. Transnistria borders the pro-Russian region of the Ukraine near Odessa. Transnistria became the personal fiefdom of a dictator with a gloriously Bond-villain sounding name: Igor Smirnov. Transnistria is a rather grim and depressing place, at least partly because it retains the symbols of the former Soviet Union: hammers and sickles, ostentatious military parades and monuments, other dubious stuff. Transnistria's independence is recognised by no generally recognised states – not even Russia. (It is recognised by other breakaway regions of former Soviet republics: South Ossetia, Abkhazia, and to some extent Nagorno-Karabakh).
When you go to Transnistria and in particular its capital city of Tiraspol, it is not all that clear what is there, beyond weird remnants of communism. The Kvint distillery makes some of the finest spirits in central Europe, but the fact that a country feels the need to put a brandy distillery on its five rouble banknote does tend to suggest that there is a certain sparcity of other legitimate economic activity. There are terrible rumours of arms dealing, drug and human trafficking, the peddling of bodily organs of dubious provenance, and various other activities frowned upon in respectable places.
But, of course, there is the Sheriff factor. There is a logo of a single company on all kinds of businesses: supermarkets, petrol stations (can one say subsidised Russian oil money, by the way?), a mobile phone network (using the CDMA/IS-95 technical standard that unlike GSM family standards does not require registration with the certificate authorities of the ITU, of which Transnistria is not of course a member), a television channel, a construction company, even the aforementioned Kvint brandy distillery. Basically, a single conglomerate controls pretty much the entire Transnistrian economy. It has two main managers and shareholders, former KGB agents Viktor Gushan and Ilya Kazmaly, and it has all kinds of special privileges in Transnistria that no other companies are allowed. (Most notably, Sheriff is the only company in Transnistria that is allowed to trade in foreign currencies directly). These privileges were granted by Igor Smirnov's son Vladimir Smirnov, the head of the Transnistrian customs service Despite occasional public spats with Gushan and Kazmaly, it is fairly widely acknowledged that Sheriff is a front through which Igor Smirnov controls, profits from, or at least plunders the Transnistrian econony.
Dedicated football fans might just be starting to understand the purpose of this digression, as a team named Sheriff Tiraspol have been seen in European football recently, in the previously mentioned Europa league. Although Transnistria claims to be a separate country from Moldova, its football teams compete in the Moldovan league. The Moldovans presumably originally tolerated this because this was originally a de-facto acknowledgement that Transnistria was in fact part of Moldova, and expelling Transnistrian teams from the league would have suggested this was not so. Or possibly they were pressured by Russia, and by Russia's friend's in FIFA and UEFA, or by the Russian mafiosa who rule Moldova in concert with the Romain speaking politicians. Or something.
In any event, approximately 15 years ago, the omniscient Transnistrian Sheriff corporation founded a football team, named FC Sheriff Tiraspol. With money that came from somewhere or other, that corporation recruited players from Africa and Latin America, and it rapidly became the dominant team in Moldova. And when I say dominant, I mean dominant. Sheriff have won every Moldovan league since 2000. In European competition, they are good enough to at times qualify for the group stage of the UEFA Cup/Europa League. This tends to imply they are about as good as a middling first division Dutch club, perhaps.
Moldova is perhaps the poorest country in Europe. Transnistria appears bleak next to Moldova. However, the one non-bleak place in Tiraspol is Sheriff Stadium, which is a beautiful 15,000 seat football stadium built to the highest standards. (There is a Mercedes Benz dealership in the same building as the stadium, incidentally. This franchise also belongs to Sheriff corporation, incidentally. Throughout the Russian sphere of influence, one finds German companies doing business in places where the English or the French fear to tread). This appears to have cost around $200 million to build. This is of the same magnitude as Transnistria's annual GDP. Lord only knows where the money came from. (That is a lot of black market organ transplants of illicit AK-47s). I make no connection, but the phrase "Russian oil money" has appeared earlier in this post).
One of the interesting things about FIFA and UEFA is the interpretation of regulations. Theoretically, for a certain level of international match, a certain standard of stadium is required. The only stadium in Moldova that satisfies the standards necessary for international matches is Sheriff stadium in Tiraspol. Thus, the Moldovan national team has been required to play its home matches in Tiraspol in Transnistria. This has not gone down well with actual Romanian speaking Moldovans, who have stayed away from the matches in droves. On the other hand, Sheriff Tiraspol have been playing in Europe, and have made the rest of the Moldovan league irrelevant, and have become the host of Moldovan national matches. FIFA president Sepp Blatter has attended at least one match at Sheriff Stadium, and said the facilities were "wonderful".
The Transnistrians lack of international recognition would prevent them from joining UEFA and FIFA in their own right, and yet they have somehow managed a reverse takeover of Moldova's membership of these organisations. The feeling in Transnistria is that this grants them certain legitimacy that they would not have otherwise. UEFA and FIFA have gone along with this, and have supported this. Once can only speculate as to why, and who exactly is friends with who, and who exactly else is involved. And where exactly the money goes.
One might compare the situation with another State of limited recognition, the Republic of Kosovo in the former Yugoslavia. The Kosovars love their football as much as anyone. (This is not entirely a positive – football teams and nationalist movements are mixed up in the Balkans in ways that are not always savory). However, their teams have long been excluded from Serbian leagues and the world. The option of playing in the league of a neighboring country (whether or not they then take it over) is not open to them. FIFA and UEFA's rules apply here in a different way. One sort of thinks this might have something to do with their having the wrong friends.
Correction: Unfortunately, a couple of paragraphs describing the doings of Sheriff corporation in Transnistria were omitted due to a badly placed tag when this piece was originallly posted. This has now been fixed.