Here, via the Flickr blog, is this charming photo (click on that to see it as big as you want), which combines an ancient agricultural procedure with some much more modern civil engineering, somewhere near Treviso, in north east Italy: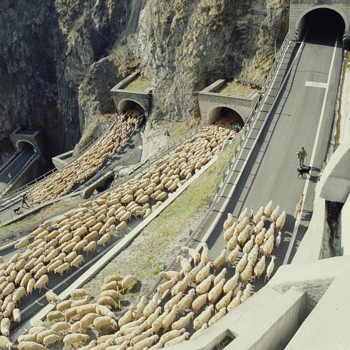 Ideal circumstances, all here will surely agree, for a James Bond car chase. Goldeneye, which was shown on ITV2 last night and is on ITV2 again tonight, has a car chase early on, on just such a road. No sheep are involved, but there are cyclists. Bond didn't drive into them, like this, but he did drive past them and they all fell over.
Sadly, I think that the above road is probably too narrow for cars, and is actually a bespoke sheep track. I guess that sheep, in Italy, are objects of political worship, much as cyclists are here.